GOP Maine Lawmaker Who Dismissed Vaccines and Masks Appears to Have COVID Along With Wife
State Rep. Chris A. Johansen, a Republican lawmaker in the Maine House of Representatives, and his wife have reportedly contracted COVID-19. Johansen has, in the past, dismissed the severity of the ongoing pandemic and joined other Maine Republicans in flouting mask rules.
Johansen was apparently cagey about his condition when contacted by the local Portland Press Herald, saying only that "he wasn't feeling well" and hanging up before he could be pressed for an elaboration. But Crash Barry, a writer for the left-leaning news outlet Mainer, tweeted a snippet of a phone call with a man sounding like Johansen saying, "Listen up, I've got COVID and I'm really, really sick and I just don't have time to talk to you today."
Newsweek reached out to Johansen's office to confirm this report and get a comment but has not heard back at this time.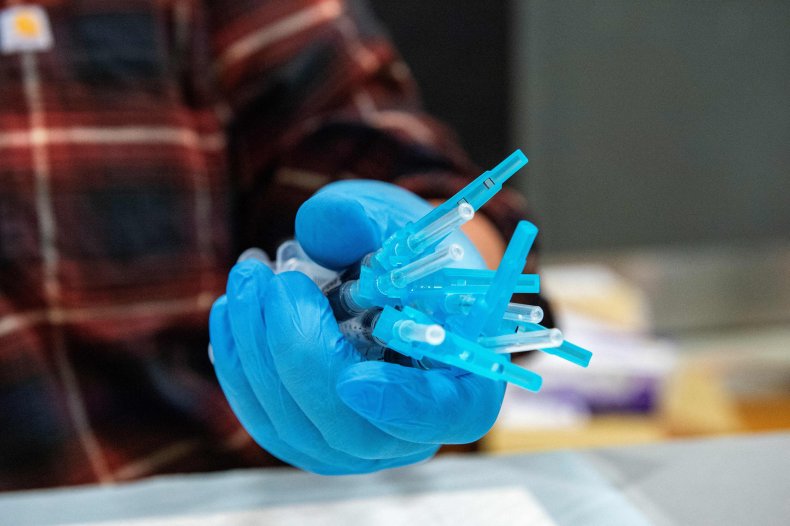 The GOP lawmaker's wife, Cindy Johansen, confirmed her COVID-19 diagnosis separately in a Facebook post. In the post, she claims to have passed out in her garage and that her "legs were like rubber" at one point. She is considered to be at higher risk for hospitalization with COVID due to her asthma.
Both Johansen and his wife have in the past shared social media posts dismissing the ongoing pandemic and mocking vaccines, the Press Herald pointed out.
Johansen has also made a habit of flouting mask regulations set for the Maine State House, appearing maskless there for instance in a January video shot with six other Republicans. He was also among the GOP lawmakers in May who clashed with police at the Maine Capitol building over a failure to comply with mask rules.
Maine, along with the rest of the U.S., is experiencing a new surge in COVID-19 cases. Officials attribute this, by and large, to the prevalence of unvaccinated people and the emergence of new strains, notably the Delta variant, that are more infectious than the original novel coronavirus.
Despite this, Maine has done well with vaccinations compared to other states. According to the Mayo Clinic, 68 percent of Maine residents have received at least one vaccine dose, while 63 percent are fully vaccinated. This latter statistic is the third-highest in the U.S., trailing behind only Vermont and Massachusetts.
Johansen is the state representative for Maine's 145th District, which is located on the eastern edge of the state along the border with Canada.