GOP Maine Rep. Chris Johansen Attends Anti-Vaxx Rally Days After Wife Dies of COVID
Maine state Representative Chris Johansen attended an anti-vaccine rally on Tuesday, a little more than a week after his wife died of COVID-19.
The Daily Beast reported that the Republican legislator joined a group of fellow GOP lawmakers at a demonstration in Augusta, Maine. A crowd of around 400 people were gathered at the State House to protest Democratic Governor Janet Mills' recent mandate that all health-care workers in Maine get vaccinated against COVID-19.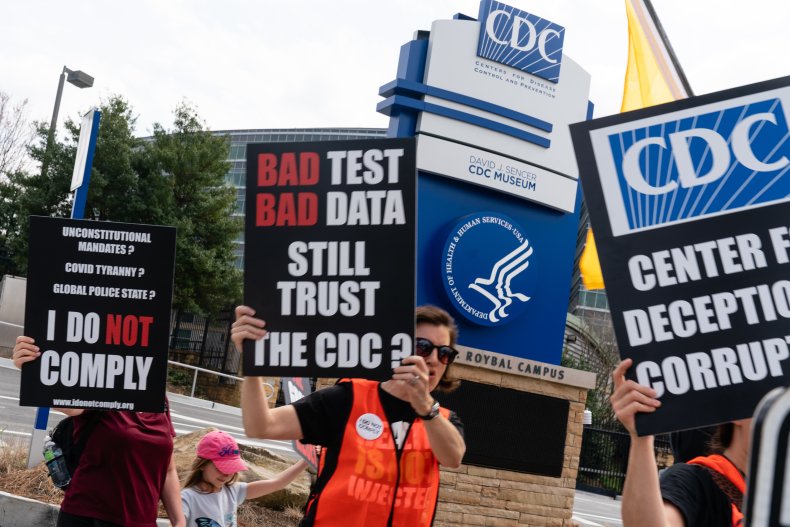 Johansen has long been a vocal critic of public health measures aimed at reducing the spread of COVID-19. The Bangor Daily News reported neither he nor his late wife Cindy had been vaccinated against COVID.
Cindy Johansen, who served as corresponding secretary for the Aroostook County Republicans, began posting about COVID symptoms on her Facebook page last month.
On July 21, she wrote: "It's absolutely horrible to be alone. And it's only going on day three."
In a February 10 post, she wrote, "Take your mask off and LIVE... because tomorrow isn't promised whether you wear a mask or not."
Chris Johansen also posted about his wife's illness on Facebook, including an August 5 message saying that doctors were checking to see if she was "ready to breath [sic] on her own when they remove the vent."
His final update regarding his wife came on August 7. That post read: "It was all bad news today. Cindy has suffered several major set backs."
None of the Facebook messages from Chris or Cindy mentioned COVID-19.
On July 23, journalist Crash Barry posted audio on Twitter of a recording he said was of Chris Johansen. In the clip, the voice purportedly to be Johansen's said, "I've got COVID and I'm really, really sick and I just don't have time to talk to you today."
Johansen has since denied contracting the virus and reportedly hung up on a reporter from the Bangor Daily News when asked about Barry's recording.
Cindy Johansen passed away last week.
Also at the rally on Tuesday was state Rep. Heidi Sampson. A Facebook video of the event shows Sampson addressing the crowd. While criticizing the vaccine mandate for health-care workers, Sampson called Gov. Mills a "reincarnated" Josef Mengele—the Nazi doctor who performed deadly experiments on Jewish people during the Holocaust.
State Rep. Johansen's efforts to resist COVID-related restrictions date back to early in the pandemic. In April 2020, he organized a protest in front of the governor's residence for the purpose of demanding Mills reopen the state's economy. A month later, he organized a second protest that defied the state's restrictions regarding public gatherings.
In May 2021, Johansen was also one of seven conservative lawmakers who were ejected from the Maine State House after refusing to wear face masks.
Newsweek contacted Johansen for comment but did not hear back in time for publication.