GOP Is Making a 'Bald-Faced, Flat-Out Lie' About Democrats Solely Focusing on Impeachment Probe, Top Dem Says
House Majority Leader Steny Hoyer on Wednesday accused Republicans of misrepresenting and outright lying about his party's impeachment inquiry into Donald Trump, denying the notion that the chamber is incapable of continuing to conduct normal legislative business while investigating the president.
"Every time I hear a Republican say all we're focused on is impeachment, it is a bald-faced, flat-out lie," the Maryland Democrat said, voicing his frustration to a room of reporters. "They know it. And all of you know. As a matter of fact, we continue to approach impeachment in a careful, considerate, thoughtful way."
Not surprisingly, the impeachment proceedings over whether to remove a sitting president have taken up much of the oxygen on Capitol Hill. But Democrats continue to push legislation, such as a proposal to combat the rising costs of prescription drug prices. Hoyer also said this week they'll focus on issuing sanctions against Turkey for its recent military surge in Syria and work to reverse Trump's plan to withdraw all U.S. troops from the Middle Eastern country.
Hoyer's remarks came as Republicans continue to lambaste their Democratic colleagues during the impeachment proceedings, which are moving rapidly with witness testimonies from current and former officials who've testified about Trump's efforts to have Ukraine investigate former Vice President Joe Biden. The White House and GOP lawmakers label the inquiry as "illegitimate" and a "sham" impeachment investigation.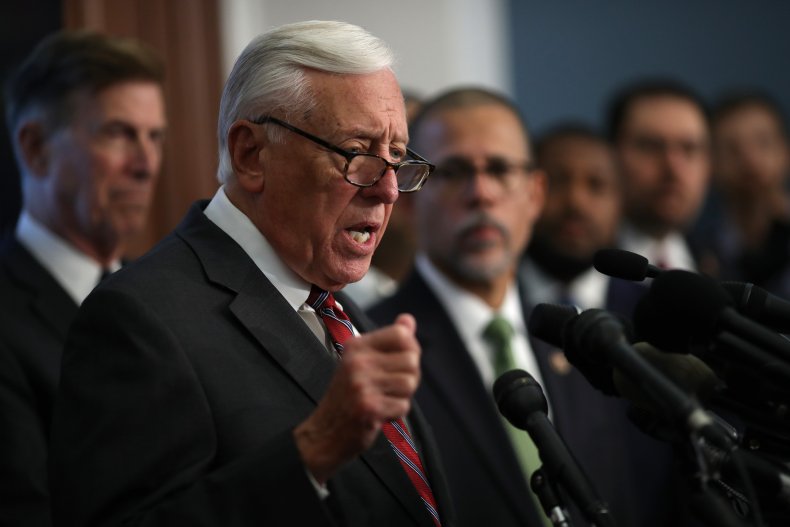 Hoyer said it "would be my hope" that House Democrats conclude their impeachment probe by the end of the year and determine whether to vote on articles of impeachment. But he cited ongoing legislation they are working on—in addition to what they've already passed, which has been largely blocked in the Republican-controlled Senate—as evidence of the GOP's false narrative about the impeachment process.
Republicans again laid into Democrats shortly before Hoyer's comments.
"All their energy is going into this all-consuming impeachment parade that has been rolling on for three years now, searching for a rationale," House Minority Leader Kevin McCarthy (R-Calif.) told reporters.
On the Senate floor, Majority Leader Mitch McConnell accused House Democrats of the same thing, saying, "Our Democratic colleagues have had their minds made up since long before this inquiry began."
House Republicans on Wednesday filed a privileged censure resolution—an official rebuke by the chamber that will have to be voted on at some point in the coming days—against House Intelligence Committee Chairman Adam Schiff (D-Calif.) over his handling of the impeachment inquiry, which has largely been conducted behind closed doors and out of sight from the public and most members of Congress. The censure is spearheaded by Rep. Andy Biggs (R-AZ), the recently-elected leader of the conservative House Freedom Caucus.
The Democratic House majority, which has defended and supported Schiff, will undoubtedly vote to table—or set aside indefinitely—the censure resolution, as they did earlier this year when a Democrat tried to force a vote on articles of impeachment.
GOP Is Making a 'Bald-Faced, Flat-Out Lie' About Democrats Solely Focusing on Impeachment Probe, Top Dem Says | Politics