GOP Maryland Governor Says State Received 'Hundreds of Calls' Asking If It's OK to Ingest Clorox After Trump's Disinfectant Remarks
Maryland's Governor Larry Hogan, a Republican, commented on Sunday of "a wrong message" being sent following President Donald Trump's controversial remarks about disinfectants and the coronavirus last week--pointing out that his state had received "hundred of calls" from residents wondering if it was safe to ingest cleaning products.
During a Thursday press conference, Trump questioned whether it would be possible to inject disinfectants into the human body to combat the novel coronavirus. Health experts and companies making cleaning products--as well as many elected officials--quickly warned the public against attempting to inject or ingest disinfectants, as such actions could lead to serious illness and possible death.
The president later claimed the remark was "sarcastic" and has since shared advice via Twitter from the Centers for Disease Control and Prevention (CDC) that warned against using disinfectants in such a manner. But Hogan took issue with the remarks in an interview with ABC's This Week on Sunday.
"Well, look I think it's really important, this has been important to me since day one, about communicating very clearly on the facts," Hogan said. "Because people listen to these press conferences. They listen when the governor holds a press conference and they certainly pay attention when the president of the United States is standing there giving a press conference about something as serious as this worldwide pandemic."
The Republican governor warned that when "misinformation" is shared, it sends "a wrong message." He asserted that Maryland had "hundreds of calls" come into its health department's emergency hotline "asking if it was right to ingest Clorox or alcohol cleaning products, whether that was going to help them fight the virus" after Trump's remarks. Hogan noted that this prompted Maryland to release an official warning against consuming disinfectants.
"We have received several calls regarding questions about disinfectant use and #COVID19," the Maryland Emergency Management Agency wrote in a Friday tweet. "This is a reminder that under no circumstances should any disinfectant product be administered into the body through injection, ingestion or any other route."
Michigan's Governor Gretchen Whitmer, a Democrat, also suggested that her state had seen an uptick in poisonings due to the president's disinfectant remarks.
"We have seen an increase in numbers of people calling poison control and so I think it's really important that every one of us with a platform disseminate medically accurate information," Whitmer told ABC's This Week on Sunday.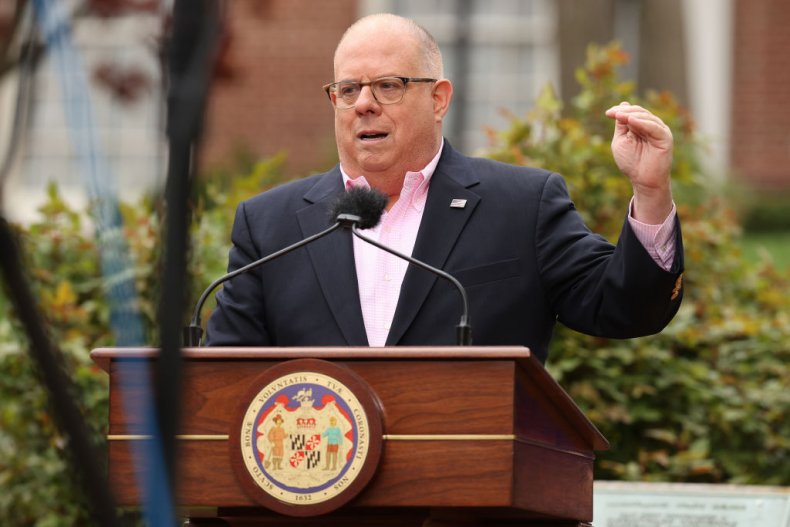 On Friday, Trump insisted that his remarks were sarcastic.
"I was asking a very sarcastic question to the reporters in the room about disinfectant on the inside. But it does kill it, and it would kill it on the hands, and that would make things much better," Trump said on Friday from the White House.
Newsweek has reached out to the White House for comment in regards to Hogan's and Whitmer's Sunday morning remarks.
Speaking to NBC News' Meet the Press on Sunday, Dr. Deborah Birx, who is coordinating the White House Coronavirus Task Force, noted again that injecting or ingesting disinfectant is not a viable treatment for the coronavirus.
"This is not a treatment," she said. However, Birx explained that Trump had been commenting on the results of a promising study, which suggested that "direct sunlight may actually be able to kill the virus."