GOP Michigan Election Official Blasts RNC's Ronna McDaniel for 'Categorically False' Fraud Claims
A local GOP official in charge of overseeing elections in a Michigan county teed off on Ronna McDaniel Friday evening, calling the Republican National Committee chairwoman's assertions that there were thousands of ballots in a Michigan city that were improperly counted for Democrats "categorically false."
Tina Barton, the city clerk for Rochester Hills, Michigan, further said she was "disturbed" by the unsubstantiated allegations of election fraud from Republicans that appeared to be aimed at undermining the legitimacy of the presidential contest.
McDaniel, who earlier in the day held a press conference with Michigan GOP Chairwoman Laura Cox, claimed that on Wednesday night, they "found 2,000 ballots that had been given to Democrats but were Republican ballots due to a clerical error, and this took place in Rochester Hills."
Barton, a member of the bipartisan national election board called the Election Assistance Commission Board of Advisors, was none too happy about the assertion.
"There were no missing ballots. The accusation that 2,000 ballots were found is categorically false," Barton said in a video posted to Twitter. "As a Republican, I am disturbed that this is intentionally being mischaracterized to undermine the election process."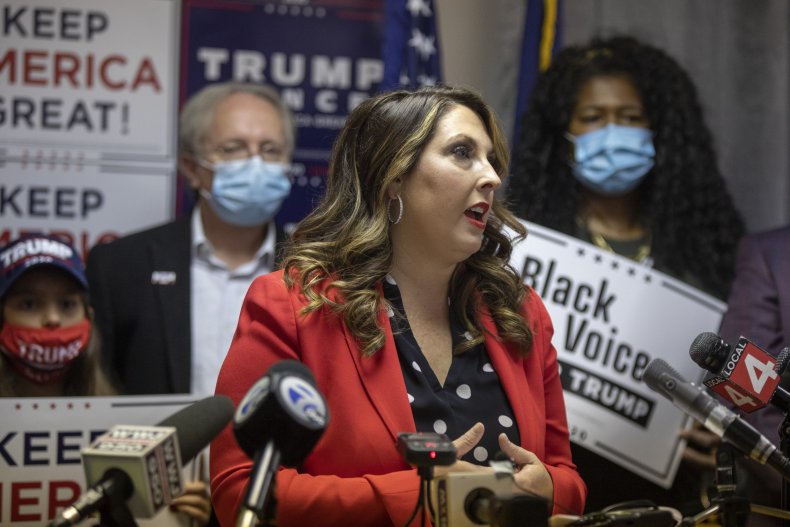 Barton said an error occurred that she considered an "isolated mistake" that was quickly corrected.
"Every voter should have complete confidence in our voting system," she expounded. "Every vote that was cast was counted accurately, and there's a paper ballot backup."
"I stand by our reported results," Barton added.
The RNC did not respond to Newsweek's request for comment.
McDaniel's claims were reminiscent of the tactic by Republicans and the Trump campaign to make allegations of vote irregularities or fraud without providing evidence. The baseless assertions from President Donald Trump and those around him have prompted Republican lawmakers to rebuke such rhetoric, advocate for the remaining votes to be counted and for the campaign to provide evidence in court to support their claims of fraud.
Trump has urged for the counting of ballots in some states to be halted and has falsely claimed he won the election.
As of Friday night, there was not an official winner, but all signs pointed toward Joe Biden emerging victorious, as the Democrat saw his lead grow larger in several battleground states that could carry him over the 270-electoral-vote mark. Michigan was called for Biden, retaking the Mitten State after Trump captured it in 2016. With more than 98 percent of the vote, Biden led by 2.6 percent, or nearly 148,000 votes.
The Trump campaign has filed lawsuits in pivotal states like Michigan to halt vote-counting—while urging that finishing the count in Arizona will give the president a win—and to demand greater access to observe poll workers, even though officials from both parties have been given access.
A Michigan judge on Thursday tossed out a Trump campaign lawsuit to halt counting ballots, noting that it made little sense because the tally was essentially completed.