Rick Brattin, Missouri Senator, Pushes State Bill To Allow Deadly Force Against Protesters
A Missouri state senator has put forward a bill that would allow the use of deadly force against protesters on private property.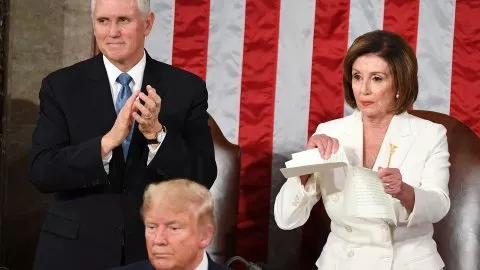 The proposal, sponsored by Republican Sen. Rick Brattin, would also make people who run over demonstrators blocking traffic not liable for any injuries sustained.
"To think that your right to protest enables you the right to stop traffic and literally stop people's ability to move about freely in this nation is a gross misunderstanding of our constitutional rights," Brattin said during a hearing on Monday.
Brattin explained that blocking traffic can be dangerous if it stops ambulances or police from responding to emergencies.
But Rev. Darryl Gray, a civil rights leader in Missouri, urged lawmakers not to expand the use of force to civilians, noting people had also disagreed with how Martin Luther King Jr. protested.
He noted that the methods that Brattin was seeking to criminalize "are the same methods that helped to destroy Jim Crow laws, segregation and destroyed centuries of hatred and bigotry."
"If this bill is enacted it would vilify non-violent protesters," Gray said, adding that he doesn't believe lawmakers would "deliberately seek to shield drivers who willfully choose to run over protesters."
The ACLU of Missouri is also urging people to contact state senators and urge them to vote against Senate Bill 66.
"No driver should be able to hit a protester and get away with it. Period," the organization tweeted. "Call your senator and ask that they vote NO on SB66."
Brattin's bill seeks to modify a number of provisions relating to public safety and unlawful assemblies—including making it a felony to block traffic during a protest.
It would also expand harassment laws to include causing emotional distress to another person during demonstrations.
Under the proposal, government employees who are convicted of taking part in unlawful assemblies would become ineligible for employment benefits.
And anyone convicted of assaulting a law enforcement officer, firefighter or first responder would not be eligible for bail under the legislation.
RECOMMENDED FOR YOU
A vote on the bill has not yet been scheduled.
It comes after Black Lives Matter protests sprung up in Missouri, and across the U.S., sparked by the killing of George Floyd by a white Minneapolis police officer last year.
Some of those demonstrations saw traffic blocked on busy roads in the St. Louis area. A St. Louis couple—Mark and Patrica McCloskey—were indicted on felony gun charges after they pointed guns at protesters marching on the private street near their mansion in June last year.
Popular in the Community
{{#values}}
ad choises
{{#isDisplay}} {{/isDisplay}}{{#isAniviewVideo}} {{/isAniviewVideo}}{{#isSRVideo}} {{/isSRVideo}}