GOP National Committee Memo Lists 7 Senate Races 'At Risk' Of Flipping To Democrats in November
A National Republican Senatorial Committee memo said the outcome of 10 Senate races this election season could shift the chamber's majority, and at least seven of those races were in need of serious defense in the weeks leading up to Election Day.
"Make no mistake: the Senate Majority is at risk," the memo, obtained by The Guardian, said. "Beyond the four battleground states of Colorado, North Carolina, Arizona and Maine, Democrats are going on offense in historically red states like Montana, Iowa and Georgia."
The memo serves as the committee's September update and has been passed along between political strategists as the November election inches closer, according to The Guardian. The Republicans currently hold a majority in the Senate with 53 seats, meaning the Democrats would need to flip four in order to ensure a majority regardless of the outcome of the presidential election.
One of the battleground states mentioned in the memo, Arizona, is part of the "battleground" portion of the committee's "defensive map" for the 2020 election season, the memo said. Several state polls conducted by researchers with YouGov, Emerson College and Morning Consult have found Democratic candidate Mark Kelly leading incumbent Republican Senator Martha McSally, and a Fox News poll published earlier this month said Kelly was leading McSally by 17 points.
Newsweek subscription offers >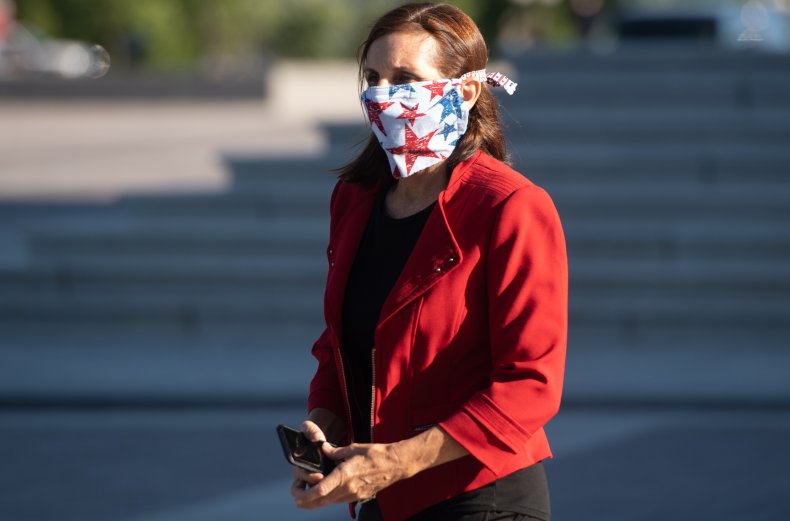 The senatorial race in North Carolina, another battleground state, was described in the memo as "a knife fight in a phone booth until the end." Republican Thom Tillis began representing North Carolina in the Senate in 2015 and is facing a challenge from Democrat Cal Cunningham, who has led Tillis in a number of recent state polls, including one conducted earlier this month by the conservative polling company Rasmussen Reports.
In Colorado, a state poll conducted by Global Strategy Group in late August and early September found former Democratic Governor John Hickenlooper leading incumbent Republican Senator Cory Gardner by 10 points, and polls conducted by Morning Consult and Public Policy Voting last month found his lead ranged from 4 to 9 points. Maine Senator Susan Collins is also battling to keep her seat this election cycle, with Democratic challenger Sara Gideon leading by 12 points with 54 percent of likely voter support, according to a Quinnipiac University poll published Wednesday.
Of those four battleground states, Arizona and North Carolina both went to President Donald Trump during the 2016 presidential election, as did the three traditionally red states the memo also went on to address. Georgia, Iowa and Montana were listed as states within the committee's "firewall" election plan, as was Kansas.
Newsweek subscription offers >
Though Democrats have for years aspired to flip Georgia, a polling average created by FiveThirtyEight of recent state surveys showed that Trump has a slim lead over Democratic presidential nominee Joe Biden in the presidential race, while incumbent Republican Senator David Perdue has a lead in some polls and is trailing in others.
Polls assessing the senatorial race in Iowa also showed incumbent Republican Senator Joni Ernst taking the lead in some and challenger Theresa Greenfield surging forward in others.
Though the senatorial race in Montana appears to be close, many recent polls found Democratic Governor Steve Bullock trailing incumbent Republican Senator Steve Daines by a slim margin.
The memo went on to mention South Carolina as yet another traditionally red state that has seen strong fundraising efforts by Democrat Jaime Harrison, who is challenging incumbent Republican Senator Lindsey Graham. While Graham has been in the lead in most polls conducted throughout the summer, another Quinnipiac poll published on Wednesday found support for Harrison and Graham tied among likely voters.
Despite the tough races ahead, the memo said that a Senate seat in Alabama currently occupied by Senator Doug Jones, a Democrat, is likely to shift red during this election cycle, an analysis that several state polls supported throughout the summer.
With fewer than seven weeks to go until the election on November 3, the committee's memo warned politicians in vulnerable positions to stay alert. "The next few weeks will define the future of our country for generations to come," the memo said.
Newsweek reached out to the National Republican Senatorial Committee for comment but did not receive a response in time for publication.
GOP National Committee Memo Lists 7 Senate Races 'At Risk' Of Flipping To Democrats in November | Politics