GOP North Carolina Lt. Governor Tells Dem State Senator to Not 'Equate Black and Gay People'
North Carolina Lieutenant Governor Mark Robinson was seen Monday yelling at a state senator who had brought up the similarities between the rhetoric used against both Black and LGBTQ communities.
Robinson, a member of the Republican Party, confronted Democratic state Senator Julie Mayfield after she had given a speech on the matter. Robinson told her that he didn't like that Mayfield "[equated] Black people with gay people," and reportedly wagged his finger in Mayfield's face.
The final moments of the shouting match were caught on video by Democratic state Senator Natasha Marcus, who described the encounter as a "rant" by Robinson.
"He berated her, and he yelled as loudly as he could," Marcus told reporters. "Senator Mayfield's remarks speak what's in the hearts of most North Carolinians, and the fact that it set the lieutenant governor off that much is shocking to me."
The yelling continued with Robinson demanding of Mayfield: "Next time, before you're getting ready to say something on that floor, come see me."
Marcus can be heard asking Robinson if Mayfield needs his permission before speaking, but the lieutenant governor did not appear to respond.
Mayfield had given the speech in response to a vote in the North Carolina legislature. During her oration, she compared the violence perpetrated against Black people to the discrimination and hate shown towards members of the gay community.
"It is convenient fiction that we can say something in a particular forum and not expect to be held accountable for those words in another," Mayfield stated. "We are elected officials. And if we can't respect our constituents rather than viciously attack some of them, then maybe we're in the wrong job."
Marcus also recorded a portion of Mayfield's speech and posted it on Twitter. Robinson can also be briefly seen in the video, seated at his podium while listening to the oration.
Mayfield's words seemed to refer to statements that Robinson has made in the past about the LGBTQ community.
North Carolina's lieutenant governor has reportedly made a number of anti-LGBTQ outbursts, including calling straight couples "superior" to gay couples and questioning why someone would choose to be gay.
Additionally, Robinson told a crowd in October that there was "no reason anybody anywhere in America should be telling any child about transgenderism, homosexuality, any of that filth," the News & Observer reported.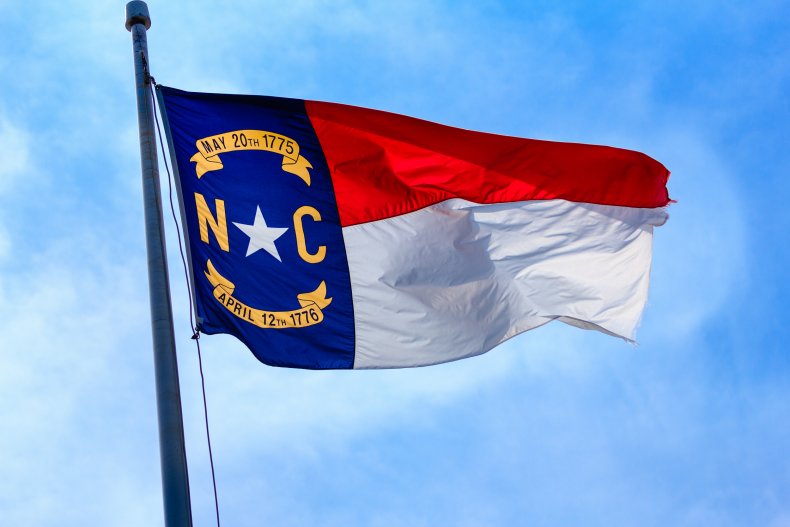 Many Democrats on the left chastised Robinson after these words. The White House also released a statement condemning his remarks.
"These words are repugnant and offensive," Deputy Press Secretary Andrew Bates stated. "The role of a leader is to bring people together and stand up for the dignity and rights of everyone; not to spread hate and undermine their own office."
Additional statements against Robinson were made by a variety of LGBTQ support groups in North Carolina and across the nation.
In regards to Monday's incident, Robinson told the News & Observer that it "made him angry."
"If you weren't there to hear what I said to her, you'll just have to take her word for it because anything I tell you you're probably going to twist for your own purposes," Robinson told the outlet.
Newsweek has reached out to Robinson's office for comment.