Ex-GOP Pennsylvania Governor Condemns Trump's Gettysburg Meeting as Attempt 'to Undermine the Republic'
Former Pennsylvania governor Tom Ridge has accused President Donald Trump of staging a "bogus event on the hallowed grounds of Gettysburg" to overturn the result of the election.
Ridge, who served as the first U.S. Secretary of Homeland Security during the George W. Bush administration, tweeted his disdain for a meeting held on Wednesday by Pennsylvania Republican lawmakers to discuss alleged election irregularities.
Trump continues to insist he won the election despite battleground states such as the Keystone State already certifying their results, in effect locking in a victory for President-elect Joe Biden.
On Tuesday, Pennsylvania Gov. Tom Wolf certified election results showing Biden won the state by more than 81,000 votes. The next day, a Pennsylvania judge ordered state officials to halt any further steps toward certifying election results which is being appealed by the Wolf administration.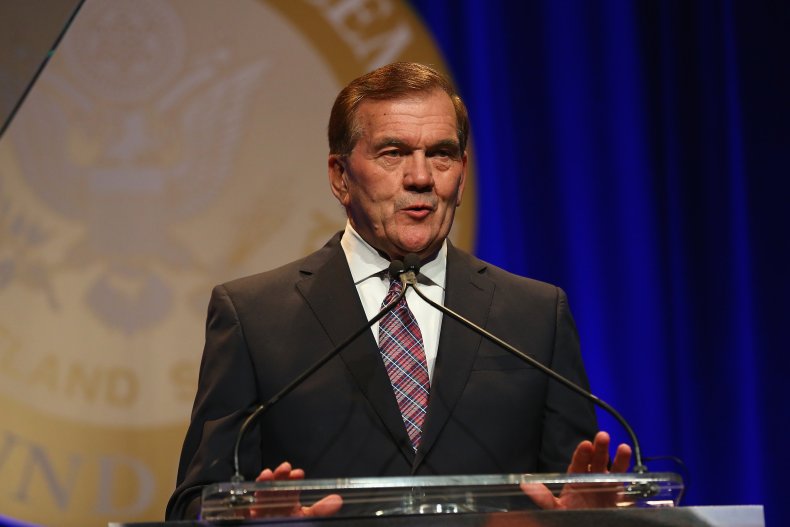 Trump had planned on appearing at the event in-person with his attorney, Rudy Giuliani, but his trip was canceled after Giuliani was exposed to someone who had tested positive for coronavirus.
Giuliani attended the meeting of the Pennsylvania Senate Majority Policy Committee during which Trump appeared via speakerphone and made further unsubstantiated claims about voter fraud.
Ridge, who served as governor for Pennsylvania from 1995 to 2001, referred in a tweet to the significance of the meeting taking place at the Wyndham Gettysburg Hotel, located about a mile from the scene of Pickett's Charge, where Union troops repelled a Confederate attack in July 1863.
"History will record the shameful irony that a president who lied to avoid military service staged a bogus event on the hallowed grounds of Gettysburg in a brazen attempt to undermine the Republic for which scores of real patriots had fought & died to preserve since its founding," he tweeted."
By Thursday morning, Ridge's message was liked more than 90,000 times, and retweeted more than 16,000 times, prompting a thread in which many expressed their support.
It is not the first time that Ridge has been critical of the Trump team's election dispute. Earlier this month, he described attempts to stop votes being counted as "un-American," accusing the president of trying "to disenfranchise not only millions of Pennsylvanians, but millions of voters in Michigan and Wisconsin and Nevada and elsewhere."
Trump's repeated legal attempts to overturn the election have been rejected by state and federal judges. The Trump team's request for Pennsylvania lawmakers to change the way its presidential electors are chosen or consider calling a special election are likely to fail too, Penn Live reported.
Jason Gottesman, spokesman for the House Republican majority told the news outlet that House GOP leaders do not intend to call House members back before the November 30 end of the 2019-20 legislative session.
"We have been clear from the beginning: the General Assembly has no role to play in the selection of electors," he said.
Newsweek has contacted the Trump campaign for comment.
The graphic below by Statista shows the tightest presidential races in the last 124 years.