GOP Pitching Own Stimulus Relief Plan Likely, Including Direct Checks as Early as Next Week, McConnell Says
Senate Majority Leader Mitch McConnell has said that Republicans will likely unveil their proposals for another round of economic relief next week amid the surging coronavirus pandemic.
"We shouldn't lightly add more to the national debt, but I'm predicting that we will have one more rescue package, which we'll begin to debate and discuss next week," McConnell said at a news conference in Kentucky, his home state, on Monday.
"When my members come back next week, we'll start socializing it with them, begin to discuss it with the Democrats and start the legislative process," the GOP senator explained. "I think you can anticipate this coming to a head sometime within the next three weeks, beginning next week."
McConnell suggested that something could be accomplished before the August recess, which is scheduled to start August 10.
Reached for comment by Newsweek, a representative for McConnell said that he had no further details to share about the economic stimulus proposal "beyond what he said yesterday."
Although specifics of the next round of economic relief have yet to be hammered out, McConnell, other Republicans and the White House have all suggested that new legislation, which would be the fifth package since the start of the pandemic, would likely include more direct payments to Americans. Back in March, the bipartisan Coronavirus Aid, Relief and Economic Security (CARES) Act provided one-time checks of up to $1,200 to the majority of Americans.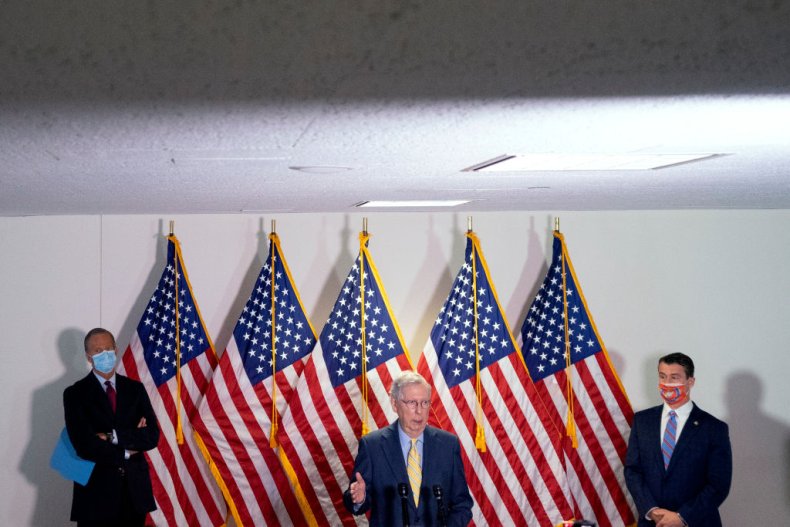 In May, the Democrat-controlled House passed a $3 trillion relief package that would send out checks of up to $1,200, in a similar manner to the provision in the CARES Act. But the leaders of the GOP-controlled Senate dismissed the massive package as a Democratic "wish list" and questioned whether a future round of relief would be necessary. As the pandemic has surged, however, Republicans in Congress and the Trump administration have voiced their support for a targeted package.
While the House's bill expanded the stimulus check payments to include undocumented immigrants struggling during the pandemic, Republicans have suggested that any future direct payments would be more limited in their scope. At the same time, President Donald Trump has been pushing for another big round of checks, something he reportedly sees as aiding his re-election chances.
"That's something he's talked about, and some of our members are interested in that as well," Senator John Thune of South Dakota, the GOP Senate majority whip, said earlier this month, referring to the president's interest in more stimulus checks. "There are some of our members who aren't interested in that, so we'll just have to see how that goes."
Last week, McConnell said he could see another round of checks for individuals earning $40,000 or less. Comparatively, the CARES Act gave $1,200 in direct payments to every American adult earning $75,000 or less. The amount was reduced for individuals earning between $75,000 and $99,000, and no money was given to individuals earning more. For those filing jointly, the package sent $2,400 to couples earning up to $150,000. The money was reduced if they earned more, until an upper limit of $198,000.
"I think the people who have been hit the hardest are people who make about $40,000 a year or less," McConnell said last Monday. "Many of them work in the hospitality industry," he noted, adding that a second stimulus check "could well be" part of a new economic package.
The White House has suggested that the next legislation should have a price tag of about $1 trillion. While that number would raise eyebrows in normal times, it's about a third of what House Democrats approved in May and less than half of what the CARES Act provided. The package would also come as the U.S. has begun running record-breaking monthly budget deficits.
In June, the budget deficit grew to a record $864 billion, the Treasury Department announced on Monday. That came after the previous record was set in April, when the monthly deficit was $738 billion. For 2020, the annual deficit is on track to increase by well over 260 percent compared with last year, having risen already to nearly $2 trillion.
Meanwhile, the number of new infections from the novel coronavirus has surged over the past few weeks, with new records being set by states and the country. As a result, some governors have paused or even reversed their reopening plans. On Monday, California's Governor Gavin Newsom, a Democrat, ordered numerous businesses in his state to end indoor operations or to shut down as new cases have spiked.
As of Tuesday morning, the U.S. had confirmed more than 3.3 million infections and more than 135,000 deaths. The country continues to have the highest number of cases and deaths of any nation in the world. As European and East Asian nations have largely curbed the spread of the virus, new infections are soaring across the U.S.
This article has been updated with a comment from a representative for McConnell.