GOP Stimulus Excludes Rubio's Push to Give Millions of Mixed-Status Families Checks
A proposal to ensure that a second round of stimulus checks make their way into the pockets of millions of mixed-status families that include undocumented family members is not part of an economic relief package being pushed by Senate Republicans and the White House.
A GOP stimulus released Monday omitted a provision spearheaded by Senator Marco Rubio that would ensure U.S. citizens married to undocumented immigrants would nix the requirement for joint filers to both have social security numbers to qualify for coronavirus stimulus payments.
The move would pave the way for millions of Americans married to foreign nationals to retroactively receive a $1,200 check from an earlier stimulus package, in addition to $500 for each child. The measure would also apply to any future legislation, as Congress and the Trump administration both support passing another economic relief package to combat the pandemic's impact that includes a second round of individual checks.
The legislation would not allow those in the U.S. illegally to receive the direct payments and would still require a social security number to qualify.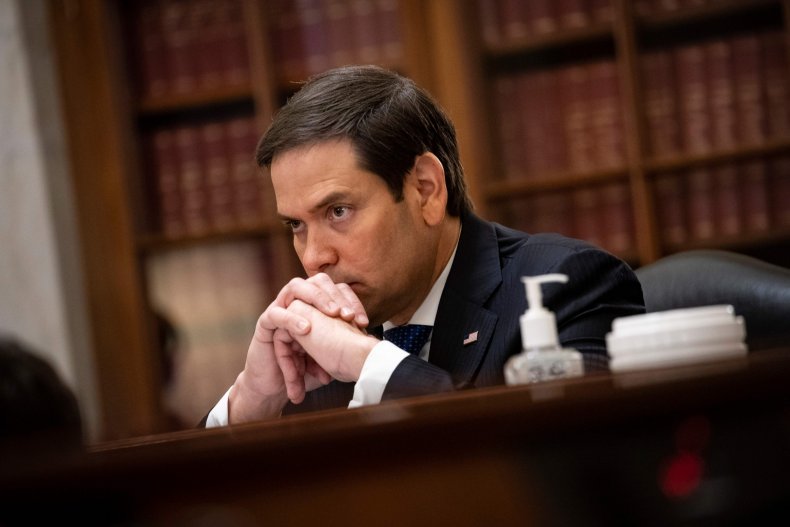 But Rubio's bill, the American Citizen Coronavirus Relief Act that has the support of Senators Thom Tillis (R-N.C.) and Bill Cassidy (R-La.), was excluded from the stimulus package that came from weeks of negotiating between the Trump administration and Senate Republicans. Rubio was not immediately aware upon the package's release whether leadership and the bill's crafters were including his provision, citing his focus on drafting more funding for the Paycheck Protection Program in the GOP plan.
Rubio's office did not indicate why his proposal was left out. A spokesperson told Newsweek that Rubio "remains committed to seeing his bill, which would provide this benefit to U.S. Citizens, make it to the President's desk."
Rubio has said he's received little-to-no pushback from leadership on his idea.
"I think it certainly has merit, and I think it has support," he told Newsweek Monday, prior to learning of his bill's exclusion.
His provision would likely benefit millions of U.S. citizens in California, Texas and Nevada who have one or more undocumented family members. The left-leaning public policy group Center for American Progress has estimated there are north of 8 million Americans who have an undocumented family member living under the same roof, including 5.9 million children who are citizens.
But there is still time for Republicans to change course and include the measure. Democrats, Republicans and the White House are not expected to produce a final bill that all sides can support for weeks, as major disagreements persist among how to handle federally-enhanced unemployment benefits, eviction protections, schools reopening and local government aid, among other things.