Republicans Question Eric Swalwell's Intelligence Committee Role Over China Spy Affair
Some Republicans are calling for Democratic Representative Eric Swalwell to step aside from his position on the House Intelligence Committee after allegations that Swalwell had interactions with a Chinese spy surfaced on Tuesday.
A Chinese national calling herself Christine Fang insinuated herself into Swalwell's political circle by raising funds for his re-election campaign in 2014, according to a report published by Axios. Fang was allegedly instrumental in the hiring of at least one intern at Swalwell's office. Some government officials reportedly believe that Fang was a spy.
"Rep. Swalwell, long ago, provided information about this person — whom he met more than eight years ago, and whom he hasn't seen in nearly six years — to the FBI," said Swalwell's office in a statement sent to Axios.
Swalwell has not been accused of any crimes. Fang reportedly left the U.S. in 2015.
Swalwell claims to have put a halt on his relationship with Fang after being warned by the FBI in 2015 that she may be spying for the Chinese government. Swalwell's involvement with Fang has left some lawmakers questioning if Swalwell should remain on the House Intelligence Committee, which is sometimes privy to classified information.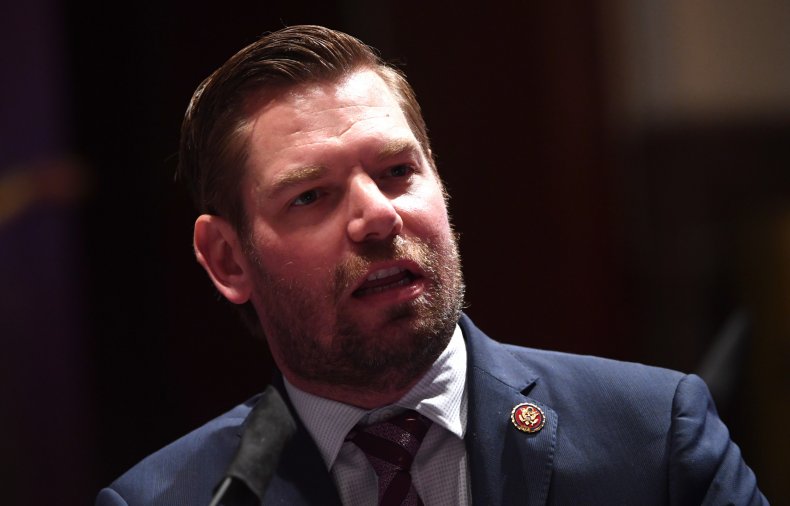 Louisiana Republican Representative Steve Scalise inquired about Swalwell's alleged activities during Thursday's meeting of the House of Representatives.
Scalise asked Maryland Majority Leader Steny Hoyer why Swalwell was still a member of the House Intelligence Committee in light of Swalwell's alleged ties to Fang prior to his appointment.
"Were you all aware of this tie to a Chinese prior to him being put on the committee?" Scalise asked. "And why is he still on the Intelligence Committee?"
"I don't have the facts but, obviously, our position is that if there are facts being raised that ought to be looked at, they ought to be looked at," Hoyer said. "But I don't have the facts and don't want to comment on the issue itself, because I don't know enough about it to do so. But I think all due diligence will be pursued."
Newsweek reached out to the offices of House Intelligence Committee Minority members Texas Congressman Devin Nunes, New York Congresswoman Elise Stefanik and outgoing Texas Congressman Will Hurd for comment.
During a Thursday press conference, Democratic House Speaker Nancy Pelosi said she did not have "any concern" about Swalwell. Pelosi appointed Swalwell to the House Intelligence Committee in 2015.
"In terms of Mr. Swalwell, in the spring of 2015, the leadership of the House and the committee were informed that overtures from a Chinese person were being made to members of Congress. When that was made known to the members of Congress, it was over. That was the end of any communication with those people," Pelosi said.
"I think we should make sure that everybody knows what they are being subjected to," Pelosi added, "but I don't know that it means we have to have background checks for every intern who comes into the Capitol."
House Minority Leader Kevin McCarthy said during a Thursday interview on Fox & Friends that Swalwell's continued presence on the committee constituted a threat to national security.
"This man should not be in the intel committee," McCarthy said. "He's jeopardizing national security."
Swalwell, who voted in favor of President Donald Trump's impeachment in December 2019, has implied that the White House may be behind the allegations.
"If this is a country where people who criticize the President are going to have law enforcement information weaponized against them," Swalwell told CNN on Wednesday, "that's not a country that any of us want to live in."