GOP Rep. Crawford Says 'Don't Know' If COVID-19 Worse Than Common Cold Amid Delta Surge
Arkansas Congressman Rick Crawford has said that he doesn't know if COVID-19 is worse than the common cold.
The Republican congressman told Fox News host Alicia Acuna that he was "not downplaying the severity of the pandemic" with his comments, which he prefaced by clarifying that he believes the virus is real.
"I believe that the COVID virus is real," he said. "However, I don't know that it's any worse than the common cold, and we somehow managed to get through the common cold as we developed overtime vaccinations and herd immunity and things of this nature."
He added: "We have to learn to live" with the virus.
Acuna did not press him on the comments, before moving on to a question about the ongoing negotiations over an infrastructure bill.
Since the start of the pandemic, 613,092 people have died of the virus in the United States, according to data from John Hopkins University. Worldwide, more than 4 million people have died due to COVID-19. CDC data going back to 2010 shows that anywhere between 12,000 and 61,000 people have died from the flu in a given year.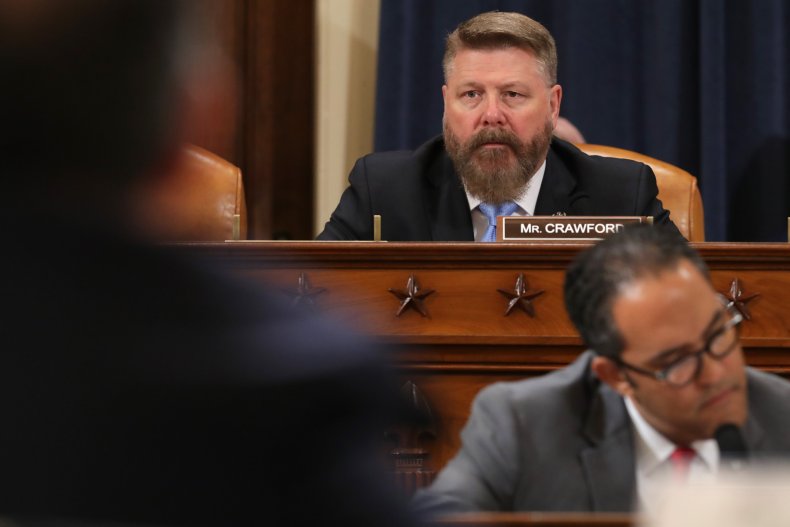 Crawford said in a statement to Newsweek Sunday afternoon that his comment "did not include additional context" due to the "nature a short television segment presents."
"The comparison I made to other viruses was to illustrate the point that these viruses seldom go away, forcing us to learn how to live with them by developing vaccines and other treatment options to minimize their damage," he said in the statement. He also pointed to an op-ed he wrote for the Paragould Daily Press where he urged constituents to get vaccinated.
The remarks received backlash on social media.
"Maybe he needs to talk to the grieving relatives of those who died from Covid or visit the hospital and talk to people in the ICU," Twitter user @MollyBrown28 wrote.
"Common cold vaccinations and herd immunity? More than 200 viruses are known to cause the common cold," wrote user @Woofkoof. "People don't generally die in large numbers from colds. The US alone has over half a million deaths from COVID."
In Arkansas, more than 6,000 people have died of the virus, and cases are quickly climbing due to the highly virulent Delta variant. More than 2,500 new cases were reported Friday, compared to 686 cases a month earlier on June 30, according to John Hopkins.
Arkansas Governor Asa Hutchinson, a Republican, has pushed for some members of the party to take the pandemic and vaccinations more seriously. He said there should not be a partisan divide surrounding the pandemic and vaccines.
"There shouldn't be a partisan divide first of all. But, clearly, conservative is more hesitant about government authority. That's just the nature of it. And so, I think in the Southern states and some rural states, you have that more conservative approach, skepticism about government," Hutchinson said early July on ABC News' This Week.
Hutchinson has received backlash from some residents for his approach to the pandemic.
"As I go into these town hall meetings, someone said, 'Don't call it a vaccine, call it a bioweapon.' And they talk about mind control," Hutchinson said on CNN's State of the Union. "Well, those are obviously erroneous. Other members of the community correct that."