Republican congressman Dan Crenshaw unsuccessfully tried to lose two combat veterans by ducking into a private elevator as they confronted him about his support for President Donald Trump in Washington, D.C. on Thursday.
A video recorded and posted Thursday to Twitter by Common Defense, a national grassroots movement of veterans and military families mobilizing against the president, shows two members of the group confronting Crenshaw about his complicity with the Trump administration's alleged corruption and crimes as the congressman walked down the halls of the Cannon House Office Building.
Newsweek has confirmed the identities of the men as U.S. Army veterans Jason Hurd, 40, and Alan Pitts, 36, a Purple Heart recipient.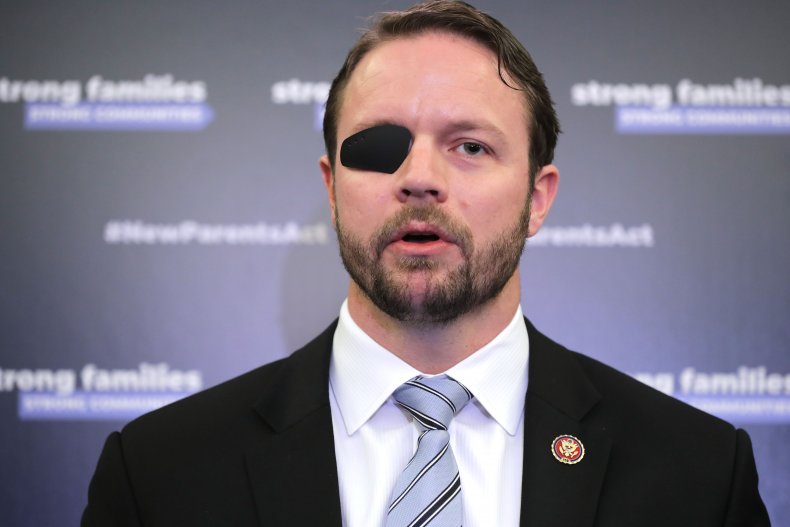 "Congressman Dan Crenshaw seems to have a lot of time to go after Alexandria Ocasio-Cortez on Twitter, so we expected him to have a few minutes to talk to some fellow combat vets," Pitts told Newsweek on Thursday evening, after the encounter. "We've got no place in our veteran community for someone like Crenshaw, who puts his self-serving political ambitions above the oath all of us swore."
"I wanted to make the case to this politician that Trump has trampled on the constitution we both swore to protect for long enough," Hurd added. "I wish Dan Crenshaw would have taken the time to respectfully hear me out."
"How can you let a criminal like Donald Trump run roughshod over our democracy and shred everything that you and I fought for?" Hurd can be seen asking Crenshaw in the video as he follows the congressman down the halls of Congress. "How can you just sit there idly by and not do your duty?"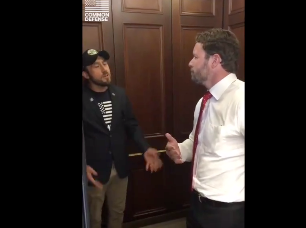 GOP congressman Dan Crenshaw attempted to evade veterans who confronted him about his support for President Donald Trump on Thursday by ducking into a private elevator.
Common Defense/Screenshot
"You can not be complicit in this man's crimes. It is immoral," Hurd continued, "how are you going to let him just cosy up to dictators? How are you just going to let him lock kids up in cages?"
Crenshaw, who had largely ignored the veteran, urged him to "calm down." The congressman, then walked quickly towards a private elevator while Hurd and Pitts followed closely behind, loudly urging Crenshaw to be courageous.
When the elevator arrived, Hurd attempted to enter with Crenshaw. "No, this is a members-only elevator," the congressman told the veteran, who shot back, "You're not going to let a fellow veteran in the elevator?"
"You got to make your video. You didn't come here to have a conversation," Crenshaw said as he held the elevator open and gestured for Hurd to leave. "As veterans we should be smarter about how we talk about things."
The congressman attempted to close the elevator door with Hurd still inside, but Pitts quickly reopened it. Crenshaw then left the elevator without riding it and stormed away.
Common Defense was founded in 2016 by "veterans who oppose Trump's corrupt agenda of hate," according to the group's website. Their mission is to preserve the core values that they swore to uphold and defend.
Crenshaw is a former United States Navy SEAL officer who has been serving as the U.S. representative for Texas' 2nd congressional district since 2019. He was elected in the 2018 midterms and is a member of the Republican Party.
Crenshaw did not immediately respond to Newsweek's request for comment.