Rep. John Katko (R-N.Y.) has suggested that that the U.S.-Mexico border is being exploited by terrorists due to the immigration policies of President Joe Biden.
Katko made the remarks while touring the Southern border near El Paso, Texas with 12 GOP colleagues led by House Minority Leader Kevin McCarthy (R-Calif.) on Monday. The New York congressman claimed that border agents had apprehended people on the terrorist watchlist in recent days, blaming Biden for rolling back the border security policies of former President Donald Trump.
"People who they've got in the last few days... have been on the terror watchlist," said Katko. "Individuals that they have on the watch list for terrorism are now starting to exploit the Southern border. We need to wake up, we need to understand. Listen Mr. President Biden, you're an OK guy. Why don't you just admit you made a mistake with this policy and go back to the way it was and keep America safe for all of us?"
"And use that money that we're wasting down here on American citizens," he added. "The door should not be open and we should have immigration the right way."
During an appearance on Fox News a short time later, Katko elaborated that "people from Yemen and the Middle East are coming across the border now."
Biden has been under heavy fire from Republicans due to an increase in attempted border crossings during the less than two months of his presidency. A massive surge of unaccompanied minors arriving at the border has also prompted criticism from Democrats, many upset that Trump-era detention facilities are being reopened to temporarily detain the migrant children.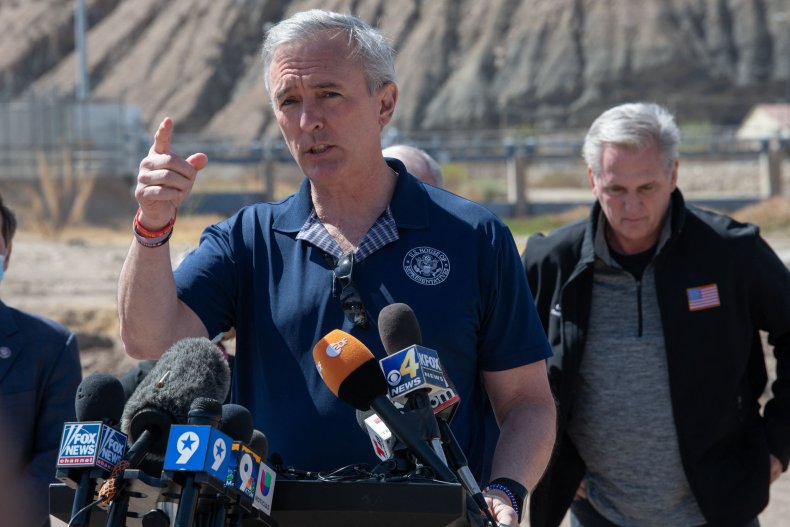 The president quickly moved to reverse many of his predecessor's key immigration policies after taking office on January 20, including halting construction on the border wall, reversing Trump's so-called "Muslim ban" and ending a policy requiring migrants applying for asylum to stay in Mexico prior to court hearings.
Katko, a former assistant U.S. Attorney who prosecuted Mexican drug cartels in the El Paso area prior to entering politics, said that terrorists were being joined by the cartels in exploiting the "disorder at the border by executive order."
"The cartels know when to exploit the Southern border and they're doing it now masterfully," Katko said. "They're doing it because President Biden rolled back a lot of the orders of the previous administration that were working."
"There is indeed disorder at the border by executive order," he added. "No question about it."
Although Katko favors the immigration policies of Trump over Biden, he was one of a relatively small number of Republicans to be openly critical of the former president during his time at the White House. Katko was one of only 10 Republicans to vote in favor of Trump's historic second impeachment by the House on January 13.
Newsweek reached out to Customs and Border Protection and the White House for comment.