GOP Rep. Ken Buck Says Google 'Chose the Winner' in 2020 Election by 'Changing Algorithm'
A video posted online Thursday shows GOP Representative Ken Buck claiming Google changed its algorithm "to disadvantage Donald Trump and to advantage Joe Biden" during the 2020 presidential race.
Buck—the top Republican on the House Judiciary Committee's Subcommittee on Antitrust, Commercial and Administrative Law, which is investigating Big Tech—also said of Google, "They chose the winner."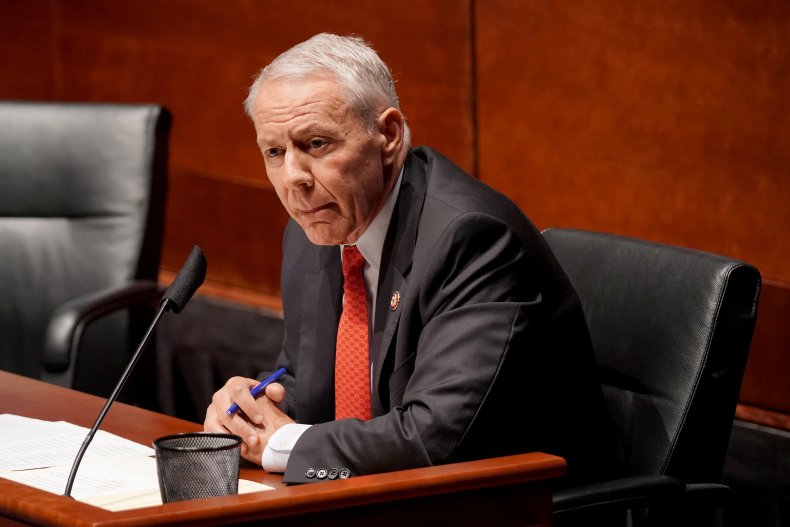 Lauren Windsor of the web show The Undercurrent posted the video on Thursday. In it, the Colorado Republican is speaking at an event in late June hosted by Patriot Voices, a conservative group founded by former GOP Senator Rick Santorum of Pennsylvania.
In the video clip, Buck talks about the baseless claim regarding Google amending its algorithms to favor Biden over Trump. He said he's asked "people that own newspapers" about the issue and was told that "'it's just a technical thing. We don't know what the result was; we just know that...a technical person did this.'"
Buck added: "Nonsense! They chose the winner. They can move the estimates. They moved 15 million votes."
Windsor is then heard off-camera asking Buck to expound more on how Google affected 15 million votes. Buck answered the "academics" on the issue proved that "by changing the algorithm, you can flip 15 million votes; you can influence 15 million people to move one direction or another."
He also emphasized, "It absolutely happened."
Buck explained that conservative publications such as The Washington Times and the Washington Examiner were pushed farther down in Google's search results, making it harder for people to find the stories they wanted on Trump.
Since Democrats control the House of Representatives and the Senate, there will be no investigation into the alleged algorithm changes at this time, Buck said. However, Buck insisted that Republicans would win back Congress in next year's elections and that there would be an investigation into the matter before the 2024 presidential race.
"We will win," Buck said. "The people are so obsessed with boys playing girls sports, and critical race theory, and all the other things that are going on that we will win the majority, and we will hold hearings on this very issue."
The video's online posting comes a day after Trump announced he had filed a class-action lawsuit against Facebook, Twitter and Google, as well as their respective CEOs. The former president also demanded that his accounts be reinstated.
Newsweek contacted Buck for comment but did not hear back in time for publication.
Update 07/08/21 5:20 p.m. EDT: This story has been updated to indicate Lauren Windsor asked Ken Buck for further elaboration on his Google claims.