Texas Republican Representative Louie Gohmert said Friday that allowing lawmakers to cast votes on behalf of absent colleagues during the coronavirus pandemic was "wishy-washy" and would require an amendment to the U.S. Constitution.
Democrats have proposed proxy voting in order to maintain social distancing protocols. Under the proposal, committees would be allowed to conduct hearings, legislature markups and depositions. Proceedings could be held virtually using an approved technology platform. Members of the House who participate remotely would count towards a quorum—the number of Representatives needed to validate proceedings—and be able to vote.
During a speech on the House floor, Gohmert lambasted the proposal, which was unveiled Wednesday by House Speaker Nancy Pelosi and House Majority Leader Steny Hoyer.
"Now some here say, 'But if it saves one life, it's worth it.' How about the million Americans who laid down their lives not for a wishy-washy 'Oh maybe we should be afraid we might get something and die.'" Gohmert said.
"They didn't do that in the Spanish Flu days," Gohmert continued, "they didn't do it in the Civil War, but now we're going to do it?"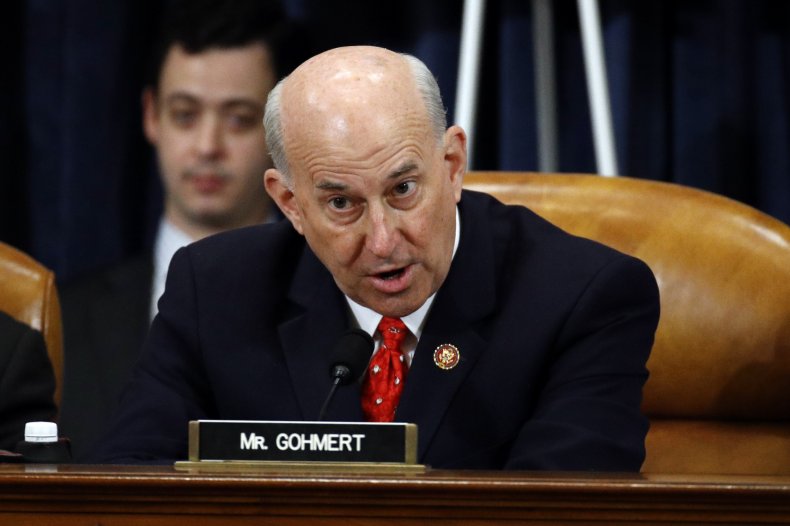 Newsweek reached out to Speaker Pelosi's office for comment. This story will be updated with any response.
If the proposal passes, one lawmaker would be permitted to stand in for a maximum of 10 other individuals. According to a summary of the proposal, proxies "must receive exact written instruction" on how their colleagues wish to vote and must follow those instructions exactly.
In a joint statement released Wednesday, House Administration Committee Ranking Member Rodney Davis, Minority Leader Kevin McCarthy and House Rules Committee Ranking Member Tom Cole, all Republicans, said the proxy voting proposal amounted to "legislative theater."
McCarthy supports the usage of existing House rules and practices during the pandemic while following social distancing guidelines including the usage of personal protective equipment, virus screening and random testing.
Meanwhile, a new coronavirus stimulus package proposed by the Democrats is expected to be voted on Friday. Known as the Heroes Act, the bill would deliver $3 trillion in relief to individual Americans and businesses.
Included in the bill is a second round of direct payments to qualifying Americans, extended unemployment benefits and a $200 billion fund designed to provide hazard pay for essential workers.
Even if the Heroes Act passes the House of Representatives, it may stall out in the Senate. Republican Senate Majority Leader Mitch McConnell said Monday that the GOP did not feel any "urgency" to approve a new relief bill, choosing instead to "take a pause" to assess how previous relief bills had affected the country.