North Carolina Republican Rep. Madison Cawthorn has said he agrees with New York Black Lives Matter (BLM) activists who oppose the enforcement of vaccine mandates at public venues.
"I can't believe I'm actually agreeing with them," Cawthorn said about the BLM activists during his Tuesday interview with the right-wing media network Newsmax.
BLM of Greater New York decided to protest Carmine's, an Italian restaurant in New York City's Upper West Side, after five Black Texan tourists fought with the restaurant's Asian hostess last Thursday.
The attack began after the hostess questioned the validity of the tourists' COVID vaccination proof, a spokesperson for Carmine's told Newsweek.
However, the tourists said that the hostess was rude and used a racial slur against them. Carmine's has denied the accusations, calling them "a deeply cynical ploy to try to excuse wanton violence," WLNY-TV reported.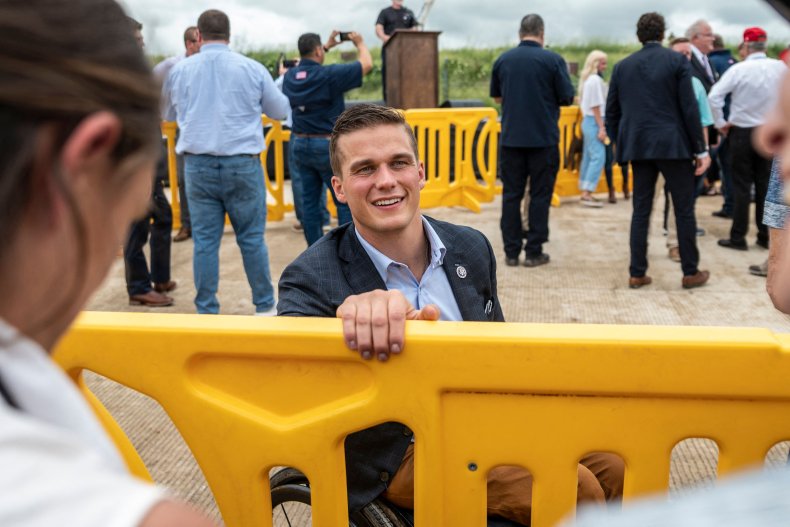 Hawk Newsome, the co-founder and chairman of BLM Greater New York, told The New York Times that his group would protest Carmine's treatment of Black patrons.
"Restaurants are using vaccine mandates to enforce their racist beliefs and excluding Black patrons," Newsome said.
In his Tuesday Newsmax interview, Cawthorn agreed with Newsome's characterization of the restaurant's vaccine requirement.
"This is weaponized mandates, when no American, regardless of skin color should be giving up their personal liberty so easily," Cawthorn told the outlet. "Right now, what you're seeing is, you're seeing this medical apartheid, which is causing modern-day segregation."
"Every single minority activist should be up in arms right now, saying, 'You are hurting the people who need help the very most with this actual mandate,'" Cawthorn added. "It should be rescinded, and we should never be a country that forces mandates down the throats of Americans."
A spokesperson from BLM's national press office told Newsweek, "Hawk Newsome has no relation to the Black Lives Matter Global Network Foundation and is not the 'president' of BLM or any of its chapters."
"Only BLM chapters who adhere to BLM's principles and code of ethics are permitted to use the BLM name," the national press office added. "The reason for this is simple: unaffiliated uses of BLM's name are confusing to people who may wrongly associate the unsanctioned group and its views and actions with BLM."
On August 17, New York City began requiring proof of vaccination for all people 12 and older entering indoor business venues.
Cawthorn has opposed vaccine mandates in the past. Last week, he called possible vaccine mandates for domestic air travel a form of "medical apartheid."
In early July, he spoke against Democratic President Joe Biden's plans to go door-to-door and administer vaccinations to unvaccinated Americans. Cawthorn said the effort could lead to Americans having their guns and Bibles confiscated.
Cawthorn's opinion of Black Lives Matter is more mixed but generally negative.
On July 9, Cawthorn tweeted that BLM has a "radical hatred of this country." He wrote his tweet in reference to a Utah BLM leader who called the U.S. flag "a symbol of hatred" because far-right, white supremacist groups often fly the flag during their rallies.
The Utah BLM leader later stepped down over death threats that others made in response to her comment.
In late June 2020, Cawthorn said, "I do believe that Black lives matter," while discussing police reform on the daytime talk show The View. "I believe that all life is sacred," he added.
In a January 7 interview with Smoky Mountain News, Cawthorn compared BLM activists to the Capitol insurrectionists who tried to overthrow the 2020 presidential election results.
"Just as much as I called out Black Lives Matter protesters in the summer, I'm very happy to call out these protesters. It was wrong and it shouldn't happen," Cawthorn said.
According to the Times, the Texas tourists involved in the fight at Carmine's are facing misdemeanor assault and criminal mischief charges. They are scheduled for a court appearance on October 5.
Newsweek contacted Cawthorn's office for comment.
Update 9/24/2021, 7:53 p.m.: This article has been updated to include a statement from BLM's national press office.