GOP Rep. McCarthy Threatens to Force a Vote to Remove Pelosi if She Attempts to Impeach Trump Again
House Minority Leader Kevin McCarthy said Republicans "will work to remove" Speaker Nancy Pelosi from Congress should she move forward with another round of impeachment proceedings against the president. Conflict between McCarthy and Pelosi, both U.S. representatives from California, has arisen several times over the past year, primarily in relation to federal coronavirus aid and, earlier, President Donald Trump's impeachment trial.
Thursday marked one year since Pelosi announced the House-led impeachment inquiry against Trump. As the president looks to fill Ruth Bader Ginsburg's Supreme Court seat in the immediate aftermath of her death, and just over a month before the general election, Pelosi said Democrats have "options" to delay a judicial nomination. On Sunday, she suggested using renewed impeachment proceedings against Trump were not out of the question.
"If [Pelosi] revamps a baseless impeachment, we will work to remove her from the speakership," McCarthy said during a Fox & Friends interview on Thursday morning.
"We could make a motion on the floor to have another vote on Speaker, of whether she stays," the GOP congressman continued. "That would put a lot of people in a tough situation. Because, if she is going after the president for impeachment because he is upholding his constitutional duty, that would be very interesting for any member to stand with her on that decision...that would be shocking to me, but it wouldn't be farfetched for the Speaker to try."
Pelosi addressed potential means for Democrats to block a hasty Supreme Court appointment Sunday morning, during an appearance on ABC's This Week. When host George Stephanopoulos inquired about the possibility of new impeachment proceedings against Trump as well as Attorney General William Barr, she did not respond directly but confirmed House Democrats are not "ruling anything out" in their approach.
"Well, we have our options. We have arrows in our quiver that I'm not about to discuss right now, but the fact is we have a big challenge in our country," Pelosi told Stephanopoulos.
"This president has threatened to not even accept the results of the election with statements that he and his henchmen have made," she added. "So, right now, our main goal and I think Ruth Bader Ginsburg would want that to be, would be to protect the integrity of the election as we protect the American people from the coronavirus, and that's...I have faith in the American people on this Sunday morning."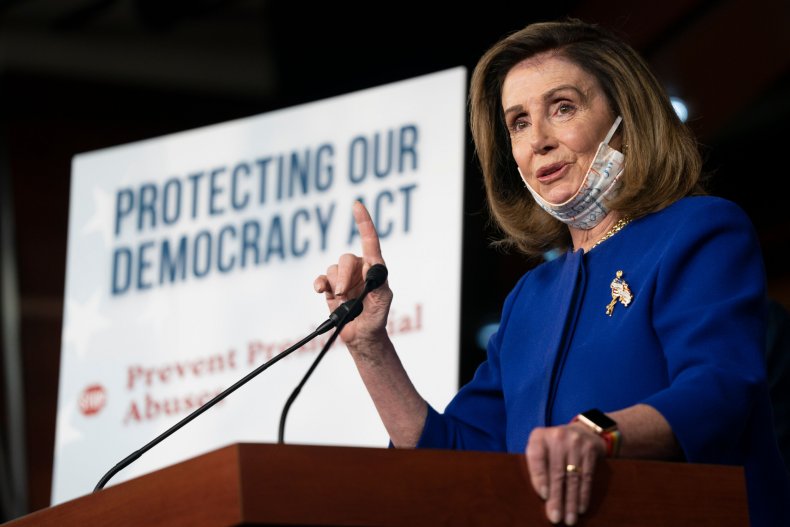 Three days later, House Democrats introduced the Protecting our Democracy Act, a legislative reforms package that aims to protect against "future presidential abuses" by strengthening checks and balances.
Newsweek reached out to Speaker Pelosi's office for comments regarding McCarthy's removal suggestion but did not receive a reply in time for publication.