GOP Rep. Mo Brooks Says Biden Amnesty Tells Migrants, 'Hey, Break Into The U.S.'
Alabama GOP Congressman Mo Brooks, who on Monday announced his candidacy for the U.S. Senate, claimed President Joe Biden and Democrats' amnesty proposals would add 100 million citizens in a decade.
Brooks warned listeners of the Breitbart News Daily radio show Tuesday that current amnesty proposals will exacerbate the same mistakes which were signed into law by former President Ronald Reagan in 1986. Brooks said the lax requirements which allow migrants to obtain amnesty tell every person in the world, "Hey, break in the United States of America. We're not going to enforce our laws."
The GOP representative's Senate campaign was endorsed Monday by Stephen Miller, the so-called "architect" of former President Donald Trump's hardline immigration plan.
In a separate Tuesday interview with National File, Brooks said the Boulder, Colorado mass shooting suspect may be an example of how Democrat border policies allow "terrorists" to enter the country. He did not cite any evidence which tied the 21-year-old suspect, Ahmad Alissa, to amnesty.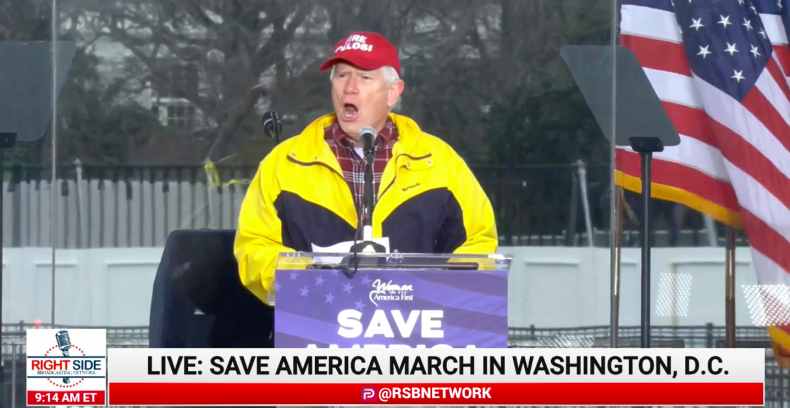 Brooks said the 3 million illegal immigrants who obtained amnesty under Reagan's 1986 law—legislation which was promoted to "tighten border security"—rapidly multiplied into five-to-seven times that number who sought amnesty by 2021.
"What the socialists want to do is ... push amnesty through the United States Congress, their argument being that that somehow fixes the problem [of people at the border," Brooks told the SiriusXM show Tuesday. "Any rational person knows that just makes it worse. It was the 1986 amnesty with Ronald Reagan and the Democrats where they promised to provide border security."
"What was a 2 or 3 million problem in 1986 has now become a 15 or 20 million problem today. We give amnesty today, it'll be a 100 million problem in 10, 20 years," the GOP congressman warned listeners.
The Alabama lawmaker went on to bluntly accuse "socialist Biden" and congressional Democrats of wanting to "import illegal aliens in massive numbers." He claimed that this "power play" would enable their party to quickly gain millions of "welfare recipients" who will reliably vote for Democratic Party candidates. He cited the government data which "has shown families with illegal aliens in them are far more likely to be on welfare than regular American citizens, or even lawful immigrants."
Brooks told National File Tuesday in a separate interview that he wants to carry the House Freedom Caucus over to the Senate. But he complained that there are "few principled conservatives" in the upper chamber who would crack down on border policies. He responded to the Monday mass shooting in Boulder, Colorado by invoking border concerns.
"Joe Biden's decision to open up immigration to countries that are embedded with uncounted numbers of terrorists is gonna be fatal for some number of Americans," Brooks told National File Tuesday. "It's only a matter of time before chickens come home to roost... going to be fatal for some number of Americans."
Newsweek reached out to Brooks' office for additional remarks Tuesday evening but did not hear back by the time of publishing.