GOP Rep. Nancy Mace Says 'There Will Be No Deal' on Biden's Infrastructure Bill
GOP Rep. Nancy Mace of South Carolina appeared on Fox News' America Reports Monday morning and told anchor John Roberts "There will be no deal as far as we're concerned," speaking about Democratic efforts to reach a deal with House Republicans over President Biden's wide-sweeping plan to improve the nation's infrastructure.
"The White House counter-proposed the Republican counter-proposal by saying it would come down to $1.7 trillion for infrastructure," Roberts said on his show Monday. "So there's still a tremendous amount of real estate between the Republicans and the White House. And in the White House counterproposal, they take away almost $40 billion from the traditional infrastructure of roads, bridges and the like. Is there ever going to get a deal done here?" he asked Mace.
Mace responded by saying, "It's doubtful," and that she thinks Biden is "just playing footsie with Senate Republicans right now."
Biden "left all of the horrible Green New Deal spending," Mace continued, citing her disapproval at funding left in that has been earmarked in Biden's plan for "environmental justice and social justice that has absolutely nothing to do with traditional infrastructure," she said.
"I drove my kids this morning to school and dropped them off, and I sat in traffic for quite some time this morning. I understand like every other working American out there, everyone has to take their kids to school. That those things," she said, presumably referring back to environmental and social justice, "have nothing to do with our roads and bridges, and they've got to trim down the bill at 1.7 trillion."
"Nancy Pelosi, from the word on the street, is she's already taken over the House Infrastructure Committee. There will be no deal as far as we're concerned, which is why you're seeing Republicans in the Senate and the House put their own proposals and alternative forward, and that's how we're going to move forward on this one," she finished.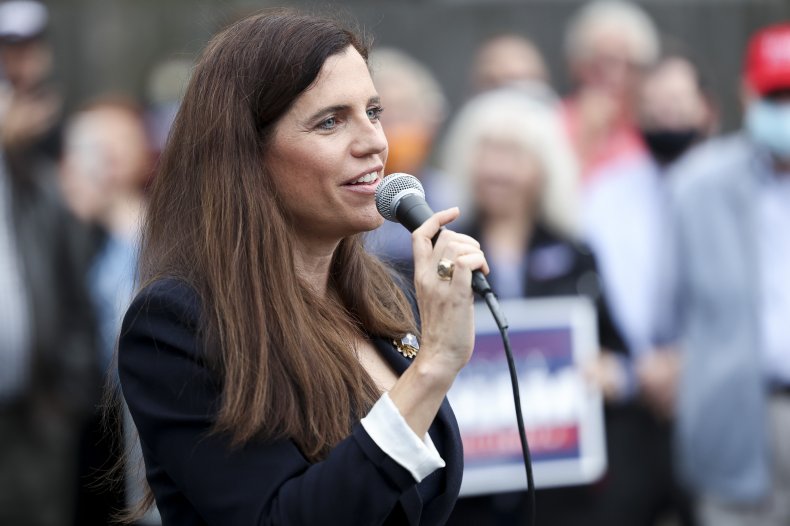 What started out at the end of March as a $2.25 trillion "American Jobs Plan" for improving national infrastructure, including things roads, bridges, public transit, railways, seaports, waterways, airports and electric vehicles, with an eye toward shifting to greener energy, has gone through a few rounds of cuts already.
A GOP counter-proposal released near the end of April would cost $568 billion—a significantly lower number than Biden's initial plan and would cut out funding for several sections of the original bill.
Many of the areas cut include funding for social programs such as care programs for elders and the disabled, and improving wages for home care workers. In Biden's plan, there is a noted focus on funding for a switch to greener, cleaner energy, and updating our nation's travel systems to a more sustainable model that doesn't rely as much on fossil fuels. The Republican counter-offer made wide cuts on that don't as well.
Democrats responded with another counter-offer Friday, which, though a far cry from the Republican's $568 billion proposal, reduced Biden's initial proposal from $2.25 trillion to 1.7 trillion. Democrats hope to make significant progress toward an agreement by Memorial Day, but it remains unclear whether or not that will happen.
Newsweek has reached out to the White House and Mace for comment.