Republican Congressman Posts Video on Christmas Eve of Hillary Clinton Getting Hit by Light Fixture
Representative Paul Gosar marked Christmas Eve by sharing a clip of a light falling on former Secretary of State Hillary Clinton from 27 years ago.
"Remember the reason for the season!" Gosar wrote in the tweet.
In 1992, when Bill Clinton was governor of Arkansas, Hillary joined him on 60 Minutes, her first interview on the show, to discuss his run for president and accusations he had an affair. About 40 minutes into the interview, a light bar that was set up for the interview crashed onto the back of the couch where Bill and Hillary were sitting.
As the Clintons jumped off the couch and away from the fallen light, Hillary exclaimed, "Jesus, Mary and Joseph." Given the Biblical names she used and their importance at Christmas time, it's possible that's what Gosar meant by "remember the reason for the season."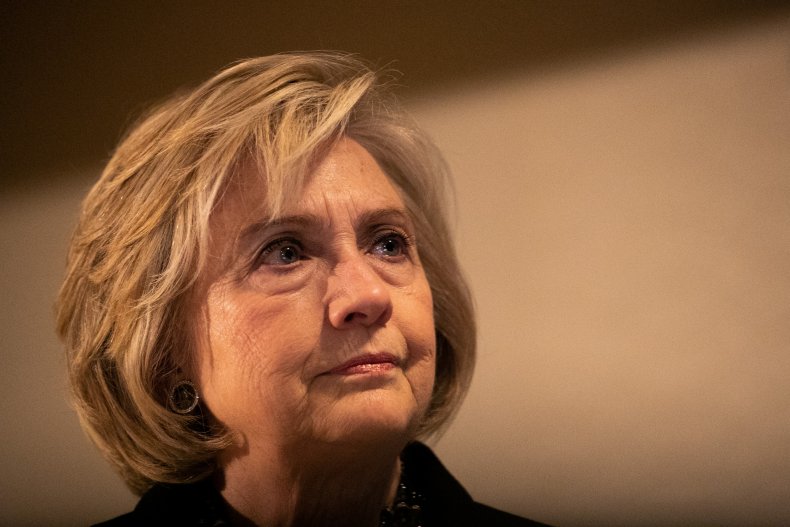 Ben Goldey, Gosar's communication's director, told Newsweek there was not "some deeper meaning at play here" and pointed to Clinton saying "Jesus, Mary and Joseph."
Newsweek reached out to the Clintons through email but did not receive a response in time for publication.
People on social media didn't take kindly to him sharing the clip, and some Twitter users said they reported it for promoting violence against the former secretary of state. Others, including Neera Tanden, the president of the Center for American Progress, claimed the representative's behavior was one of the reasons his family made an ad encouraging voters to support his opponent.
"Remember when your brothers and sisters cut a TV ad saying how awful you were?" historian Kevin Kruse posted on Twitter. "I guess that's why you think the season is meant for making awful comments like this and not, you know, spending time with family that loves you."
Ahead of the 2018 election, six of Gosar's nine siblings appeared in a political ad endorsing his opponent, Democratic candidate David Brill. They criticized him for his rhetoric and stances on specific policies, including social security and health care. Gosar claimed his siblings who filmed the ad were "disgruntled Hillary supporters" who hate President Donald Trump.
"You can't pick your family. We all have crazy aunts and relatives etc and my family is no different. I hope they find peace in their hearts and let go all the hate," Gosar said in response to the ad.
Gosar defeated Brill in the election and will be up for reelection in 2020. Delina DiSanto, a Democratic candidate vying for his seat, posted on Twitter that she "couldn't believe" he thought the clip was something to celebrate.
"Now that is a dark personality ... We cannot continue to have you in office. You are a danger to [Arizona's 4th Congressional District]," DiSanto wrote.
On Thursday morning, former first daughter Chelsea Clinton reacted to Gosar's tweet with a message of her own. As Gosar was tweeting the clip out, she wrote they were making cookies for Santa.
She also thanked the congressman for reminding her of her dad's quick reflexes, pointing to the moment after the light crashed down that he grabbed Hillary and the two moved out of the area.
This article has been updated to include former first daughter Chelsea Clinton's tweet and Ben Goldey's response.