GOP Rep Ralph Norman, Who is Suing Pelosi Over Mask Mandate, Tests Positive for COVID
Republican Congressman Ralph Norman of South Carolina, who is currently suing House Speaker Nancy Pelosi over a fine he received for not wearing a mask, tested positive for COVID-19 on Thursday.
"After experiencing minor symptoms this morning, I sought a covid-19 test and was just informed the test results were positive," Norman tweeted Thursday afternoon. "Thankfully, I have been fully vaccinated and my symptoms remain mild. To every extent possible, I will continue my work virtually while in quarantine for the next ten (10) days."
Norman is one of three Republican lawmakers to file the lawsuit against Pelosi last week. In it, he, along with Reps. Marjorie Taylor Greene from Georgia and Thomas Massie from Kentucky argued that the $500 fines they each were issued because of refusing to wear facemasks during a May vote on the House floor were unconstitutional.
"Government-imposed mask mandates represent a harmful combination of virtue signaling and unjustified fear," Norman said in a tweet last Wednesday.
The three members of Congress involved in the lawsuit were upset that Pelosi had continued her House floor mask mandate even after the Centers for Disease Control (CDC) had, at the time, issued guidance stating that fully vaccinated people did not need to continue wearing masks.
"The masking requirement was an attempt to prescribe what shall be orthodox in politics, medicine, and science, despite a deep divide over these issues of opinion," their lawyers argued, pointing out that masks were required "in televised areas only."
"It has been used to force Plaintiffs and other members of the minority party to be instruments for fostering public adherence to this ideological point of view that Plaintiffs find unacceptable," the argument continued.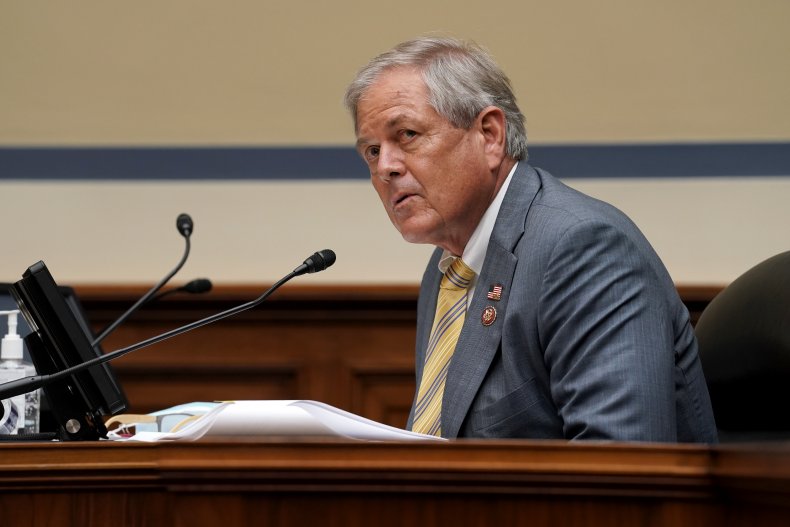 There have been more protests coming from House Republicans as of the end of last month when Pelosi reintroduced an indoor mask mandate in the face of rising COVID-19 cases. Several GOP members of Congress have continued to protest by not wearing masks.
Republican Minority Leader Kevin McCarthy tweeted, on July 27, "Make no mistake—The threat of bringing masks back is not a decision based on science, but a decision conjured up by liberal government officials who want to continue to live in a perpetual pandemic state."
In addition to Norman's breakthrough case, Senator Lindsay Graham of South Carolina announced Monday that he too had tested positive for the virus, even though he has been fully vaccinated for months. There is not a mask mandate on the Senate floor at this time.
Newsweek reached out to Rep. Norman for comment but did not immediately hear back.