GOP Rep. Says He Lost Two Legs for Jake Tapper's Right to Free Speech, After CNN Host Questions His Commitment to the U.S.
Florida Republican Rep. Brian Mast said on Wednesday that he lost his two legs while serving in the U.S. Army so Jake Tapper and others maintain the right to free speech, after the CNN host questioned Mast's commitment to the U.S.
"I lost two legs for @jaketapper's right to say whatever the hell he wants, but that free speech also protects the Republicans he is so eager to condemn for asking Constitutional questions about the election," Mast wrote in a tweet.
Mast's comments were in response to criticism from Tapper after he voted in opposition of President Donald Trump's impeachment following the violent riots at the U.S. Capitol building on January 6.
While speaking on the House floor, Mast asked his fellow elected officials "Has any one of those individuals who brought violence on this Capitol been brought here to answer whether they did that because of our president?"
Shortly after Mast's questions, Tapper told a CNN panel, "Congressman Brian Mast, a Republican from Florida, who lost his legs, by the way, fighting for democracy abroad, although I don't know ... about his commitment to it here in the United States."
Tapper then brought up Mast's question and said, "he said 'did anybody say that?' Yeah, we heard them."
Following Mast's comments towards Tapper, the CNN host responded with his own tweet that read, "You're a hero for your service and I'm grateful, as I've said before. And yes I question the commitment to democracy of anyone who spread election lies, signed onto that deranged TX AG lawsuit, and voted to commit sedition. You were not just asking questions."
Tapper went on to explain his point in several other tweets, where he said, "Rep Mast is a hero and has my eternal gratitude for his service, and as I said on air there are principled reasons to oppose impeachment. But there are no principled reasons to spread election lies and vote to disenfranchise millions of Americans based on those lies."
"I get that Trump-supporting officials want to change the subject from Sedition and incitement. But however much I focus on honoring veterans in my coverage and more doesn't mean those who served who undermine the very democracy they fought for didn't try to undermine democracy," Tapper wrote in a subsequent tweet.
Mast, a recipient of the Purple Heart medal, lost both of his legs while working as a bomb disposal expert in Afghanistan.
After reaching out to Mast's office for comment, Newsweek was directed to his interview with Fox News' Fox & Friends on Thursday, where he said, "I'm gonna say to Mr. Tapper the same thing that half of America is saying right now, hold me to a high standard – don't hold me to a double standard."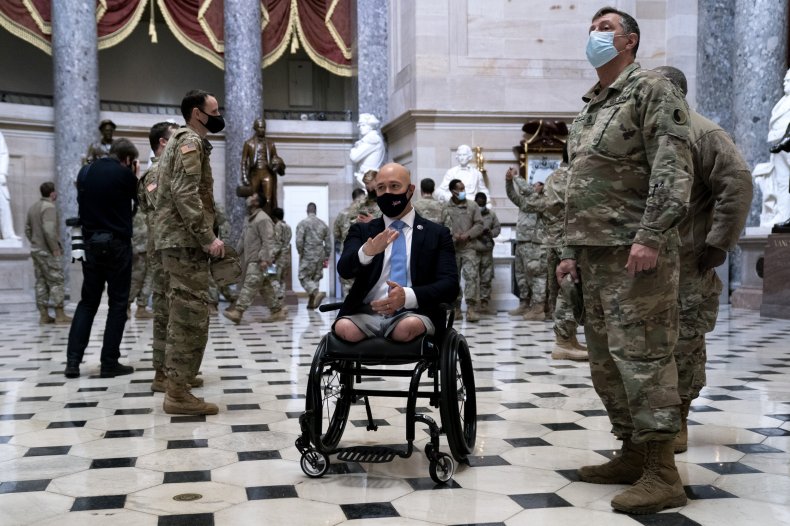 "And me asking if any of these lawmakers that are about to vote have gone through any questioning, any hearings, have asked any questions of anybody, that's an appropriate question and it speaks to the foundation of our democracy, it doesn't diminish it," Mast said. "My commitment to democracy and to my country is unwavering, I love this place so much it literally breaks my heart to see the divide that exists in it, I love our democracy for all of our problems there is no government that I would rather be a part of anywhere in this world, and to strengthen that and keep it strong, we have to ask those questions."
Newsweek was directed to Tapper's tweets after reaching out to CNN for comment.