GOP Rep Says He's Bothered Trump Doesn't Criticize Putin, Xi on Twitter
Republican congressman Adam Kinzinger said that it "bothers" him that President Donald Trump does not generally criticize Russia's President Vladimir Putin and China's President Xi Jinping on Twitter, despite him often using the platform to call out U.S. allies.
Kinzinger, who represents Illinois' 16th district, made the remark during a Tuesday interview with CNN in which he discussed reports that Trump was briefed on intelligence suggesting that Russia had paid out bounties to kill U.S. troops in Afghanistan. Although Kinzinger said he did not personally believe Trump was aware of the reports, as has been reported by multiple media outlets, he criticized the president for not publicly calling out Russia and Putin.
CNN anchor Jim Sciutto pointed out that Trump "has not uttered one word critical of Russia or the Russian president" since the reports about the alleged Russian plot against U.S. troops. Sciutto asked Kinzinger: "Why is that?"
"Yeah, I don't know," the representative responded. "I mean, that bothers me that you know, whether it's Xi of China, whether it's Putin, you don't get bad words against them from the Twitter handle," he said. "Or you'd get it about Germany, for instance."
"I don't know why that is," Kinzinger said. The congressman went on to note, however, that the Trump presidency has been a "pretty Russian hawk administration." At the same time, Kinzinger said he disagrees with the president's repeated suggestion that Russia be invited to return to the G-7 Summit.
Under Trump, the U.S. has taken a series of actions – including adding new sanctions – that have negatively impacted Russia. But Trump has long spoken favorably of Putin and other adversarial leaders around the world, which has drawn significant criticism from Democrats and some Republicans.
Newsweek reached out to the White House for comment on Kinzinger's remarks, but they did not respond by the time of publication.
Suspicion over the president's affinity for Russia led to the now infamous investigation by special counsel Robert Mueller into whether the Trump campaign conspired with Moscow to interfere in the 2016 election. Although Mueller's report did not find substantial evidence showing that Trump or his campaign colluded with the Russians, the probe and its findings have cast a long shadow over the administration.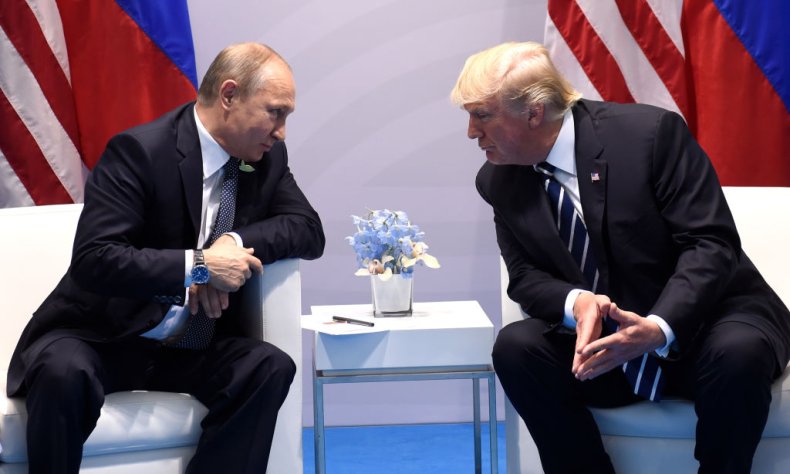 The New York Times reported on Friday that U.S. intelligence agencies had concluded that Russia had offered bounties to militias linked to the Taliban for them to target and kill U.S. forces stationed there. Several other media outlets have since confirmed the reporting, while also noting that the president received the information in his daily briefing. Despite the reported intelligence, however, the administration has not taken action to respond to Russia.
Trump has staunchly denied being made aware of the alleged Russian plot. Top administration officials have backed up the president, and the NSA reportedly dissented from the assessment put forward by the CIA and other intelligence agencies, according to The Wall Street Journal. But The Times reported on Sunday that intelligence officers and Special Operations forces in Afghanistan warned their superiors about the alleged Russian bounties as early as January.