GOP Rep. Shows Images of Colin Kaepernick, Ilhan Omar And 'The Squad' Burning in New Campaign Ad: 'I Will Not Let Them Tear Our Country Apart'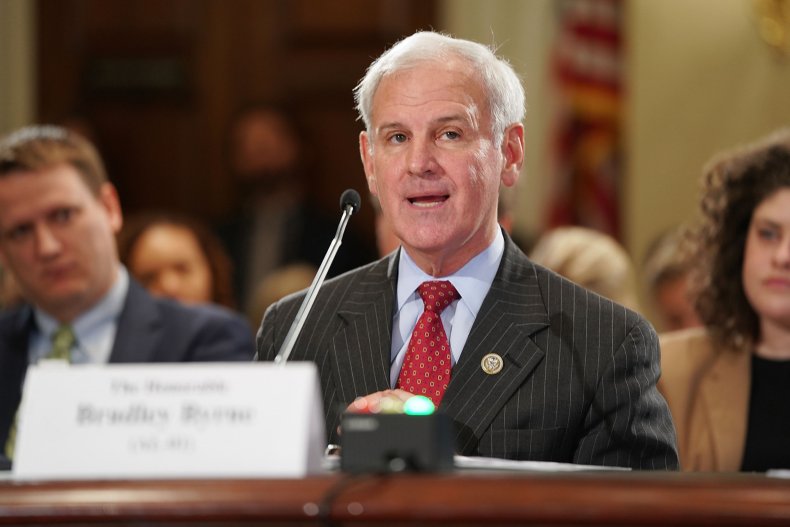 A new campaign ad released by Republican congressman Bradley Byrne of Alabama shows images of former NFL quarterback Colin Kaepernick, Democratic congresswoman Ilhan Omar and others, referring to them as "the squad attacking America."
The ad begins with Byrne speaking about the September 11 terrorist attacks on the U.S. and how his brother, Dale Byrne, "was a true patriot" as he went to war to fight for our country.
In the ad, Byrne goes on to touch on Kaepernick, Omar, and the so-called 'Squad' of fellow freshman congresswoman in New York Rep. Alexandria Ocasio-Cortez, Michigan Rep. Rashida Tlaib and Massachusetts Rep. Ayanna Pressley.
"It hurts me to head Ilhan Omar cheapening 9/11, entitled athletes dishonoring our flag, The Squad is attacking America," Byrne says while featuring pictures of Kaepernick, Omar, Ocasio-Cortez, Tlaib and Pressley. "Dale fought for that right, but I will not let them tear our country apart. That's why I'm running for senate."
The ad's reference to Kaepernick calls back to the former quarterback kneeling during The Star-Spangled Banner as a way to protest police brutality against black Americans and his ongoing outspokenness regarding race and American politics.
On Saturday, hours before Byrne released his campaign ad, Kaepernick condemned the U.S. military attack that killed Iranian Revolutionary Guards Corp. General Qasem Soleimani.
"There is nothing new about American terrorist attacks against Black and Brown people for the expansion of American imperialism," Kaepernick wrote on Twitter.
"America has always sanctioned besieged Black and Brown bodies both at home and abroad. American militarism is the weapon wielded by American imperialism, to enforce its policing and plundering of the non white world," he continued.
Before the ad's release, Byrne responded to Kaepernick's tweets, writing: "Anyone who doesn't understand which side is terrorist and which side is fighting the terrorist is either delusional or, worse, anti-America. Which do you think this jerk is? And this is who you want as the face of your brand, @Nike?"
Byrne also attached a Breitbart story with his tweet.
"Unlike so many of our servicemen, like my brother Dale who paid a price for his patriotism, this guy dishonors the sacrifice of hundreds of thousands of our warriors," Byrne added in a reply to his own tweet.
Later, Byrne also responded to criticism of the military attacks from Omar and Ocasio-Cortez.
"Our President successfully eliminates a terrorist responsible for the death of American citizens, and now the socialist squad is trying to make him the bad guy. Give me a break!" Byrne wrote, including a link to a Fox News story about comments from the two Democratic congresswomen.
Byrne, who currently represents Alabama's First Congressional District, is currently campaigning for the state's U.S. Senate seat. Other Republican candidates in the race include former U.S. Attorney General Jeff Sessions, former Supreme Court Chief Justice Roy Moore, former Auburn football coach Tommy Tuberville and Alabama State Rep. Arnold Mooney.