GOP Rep Voices Willingness to Work With Biden On Further Stimulus, Infrastructure
Representative Brian Fitzpatrick, a Pennsylvania Republican, expressed a willingness to work with the administration of President-elect Joe Biden on an additional COVID-19 stimulus package and infrastructure.
Congress passed another bipartisan $908 billion pandemic stimulus package on Monday, which included $600 stimulus checks to most Americans and 11 weeks of extra $300 federal unemployment checks to jobless workers. But Democrats had initially wanted much more, while many Republicans had backed a significantly smaller proposal. Speaker of the House Nancy Pelosi, a California Democrat, and Biden have described the latest stimulus package as a "down payment," promising to do more once the president-elect takes office at the end of January.
The Quote
Speaking to CNBC's Squawk Box on Tuesday, Fitzpatrick argued that not enough has been done to adequately stimulate the economy amid the fallout from the ongoing pandemic. He suggested that Republicans and Democrats could come together next year to support further stimulus, pointing to infrastructure as a way to bring both sides to the table.
"I think that everything that we have done up to this point has not been stimulus. It's been relief," Fitzpatrick told Squawk Box.
"We do need a stimulus bill. There's no question about it. I think most people in Congress and most people in the country would agree," the Republican lawmaker said. "Infrastructure is a great opportunity to do that because not only—the thing with infrastructure, it's an economic issue because it's a job creator."
The congressman said working on infrastructure "injects cash into the system and creates jobs when we actually need that boost." Fitzpatrick pointed out that infrastructure is a "bipartisan" issue and expressed his hope that Congress could "find a way to get it done."
Why It Matters
Many Republican lawmakers have failed to recognize Biden as the incoming president, as Trump and allies have pushed unfounded conspiracy theories that the Democrat won the election through widespread voter fraud. There is no evidence to back these claims and nearly all of the dozens of legal challenges filed by Trump and his supporters have failed in court.
Meanwhile, Biden and Democrats are already pushing for further economic stimulus after he takes office on January 20. The president-elect has centered infrastructure as a priority of his incoming administration. However, with only a slim majority of Democrats in the House of Representatives and as control of the next Senate still remains unclear pending the Georgia runoffs scheduled for January 5, Biden is operating under the assumption he will need bipartisan support for any ambitious legislation.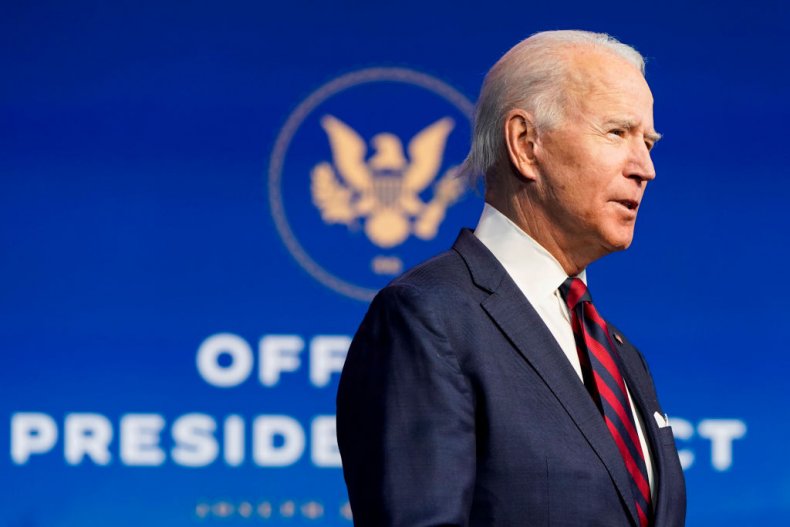 Opposing View
Some leading Republicans have already suggested they plan to oppose much of Biden's agenda. Meanwhile, leading GOP Senators Ted Cruz of Texas, Rand Paul of Kentucky, Ron Johnson of Wisconsin, Rick Scott of Florida, Marsha Blackburn of Tennessee and Mike Lee of Utah opposed the latest COVID-19 stimulus bill.
"This bill is free money for everyone," Paul said in a speech from the Senate floor on Monday, criticizing the latest COVID-19 relief package. "And yet, if free money were the answer, if money really grew on trees, why not give more free money? Why not give it out all the time?"