President Donald Trump is under fire for sensationally announcing on Saturday that he had cancelled an imminent peace agreement with the Taliban, which would have involved the group's representatives traveling to the Camp David presidential retreat in Maryland.
Trump abandoned negotiations following the death of a U.S. soldier in a Kabul bombing on Thursday, dashing hopes that the White House could bring almost 18 years of war to an end.
But while many Americans are in favor of bringing U.S. troops home—as Trump vowed to do during his presidential campaign—even some Republicans are uncomfortable with his process.
"Unbeknownst to almost everyone, the major Taliban leaders and, separately, the President of Afghanistan, were going to secretly meet with me at Camp David on Sunday," Trump tweeted on Saturday. "They were coming to the United States tonight."
The graph below, provided by Statista, shows the U.S. troop levels in Afghanistan since 2011.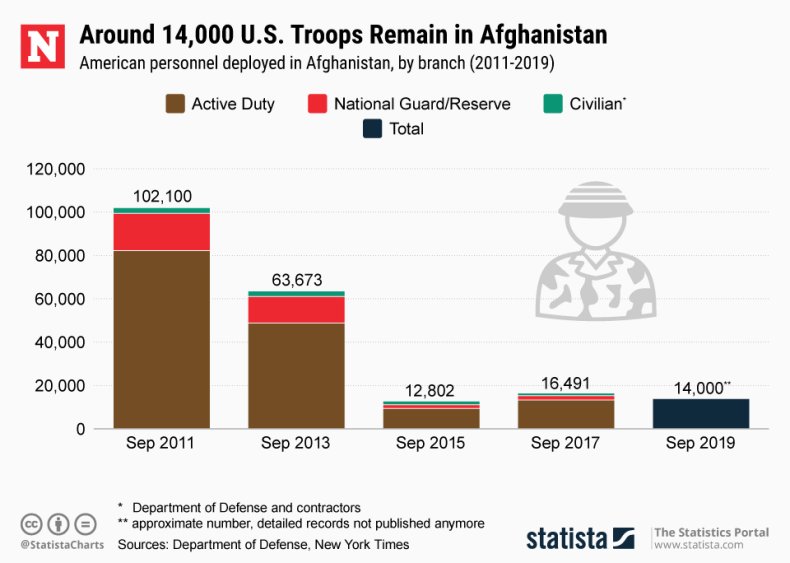 Two Republican congressmen appeared on television this weekend to criticize the president's negotiations with the Taliban. Illinois Rep. Adam Kinzinger and Florida Rep. Michael Waltz both had tough words for the commander-in-chief for inviting Taliban leaders onto U.S. soil, which both suggested was a step too far.
"There's nothing wrong with negotiating," Kinzinger explained while speaking on CNN on Sunday. "Every war in history ends in some kind of a negotiation."
But Kinzinger said he was in "disbelief" at the idea that Taliban leaders, in the week of the anniversary of 9/11, were heading to Camp David, which "has been a place of such wonderful things that have happened in the past."
"To have them at Camp David is totally unacceptable," he added, noting that the terrorist group regularly kills innocent civilians and continues oppressing women living under its control. "The president did the right thing by walking away," Kinzinger suggested. "I'm very concerned, though, that we were really close to having Taliban leaders there."
"The president should not be negotiating with these really evil people. We can't forget what they did, we can't forget what they continue to do," he added.
Waltz also urged the president to step away from the deal, telling CNN he does "not ever want to see these terrorists step foot on United States soil, period," especially given the coming anniversary of the 9/11 attacks.
Waltz, who is also a member of the House Armed Services Committee also voiced concerns over the Taliban "declaring this a victory" for having outlasted the U.S. presence in the country, and warned that the group has shown "zero desire for peace."
"There's no ceasefire that they've agreed to," he added. "In fact, they've ramped up their attacks. We talked about the American soldier that just came home this morning in a coffin."
"So I just have a lot of concerns. I'm urging the president to walk away from this deal as it stands," he concluded.