GOP Continues to Resist Calls for Independent Russia-Trump Probe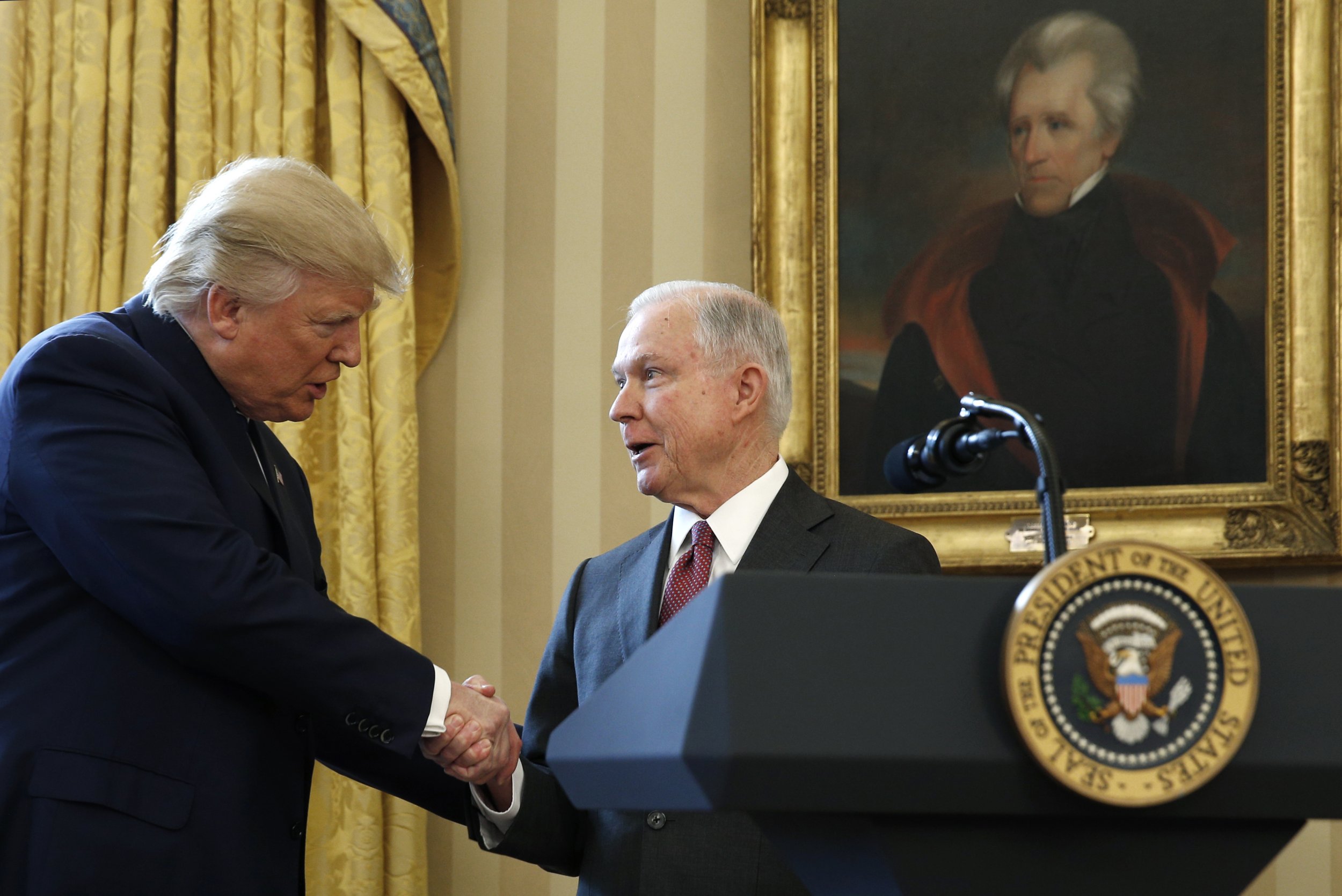 The White House hasn't ruled out a recusal from the attorney general on probes into Russian meddling in the election as prominent Republicans continue to resist calls for an independent investigation.
Republicans on the Sunday morning news shows either downplayed a need for an independent probe into Russia's activities or rejected the idea entirely while Democrats continued to call for greater urgency amid FBI investigations and in light of Attorney General Jeff Sessions' support for Donald Trump during the primary campaign.
Sarah Huckabee Sanders, deputy White House secretary, insisted on ABC's "This Week" that the FBI views reports of administration contacts with Russian officials as "BS" and said calls for Sessions to step aside are premature.
"We're confident whatever review that Congress wants to do, I think that's the first step. If they want to take that on, which there are two committees that are currently doing that, we're extremely confident that, whatever review, they're all going to come to the same conclusion—that we had no involvement in this," Sanders said. "I don't think we're there yet. Let's work through this process. You guys want to jump to the very end of the line. That's not how this works. Typically, you go through a congressional oversight review. We're doing that. Let's not go to the very end of the extreme. Let's let this play out the way it should."
Her calls to let the process "play out" were echoed by Republican Congressman Jim Jordan of Ohio. "Let's let the process work...Let the intel committees work. If there's more investigation that's needed, I'm on the oversight committee, we've never been shy about digging into issues and we'll do that. No one's ever accused me of going easy on my own party. So we'll do that," he said on ABC.
Trump frequently spoke admiringly of Russian President Vladimir Putin on the campaign trail and has been vexed by continued questions as to the nature of his associates' relationships, if any, to Russian officials. The questions intensified after U.S. intelligence agencies concluded that Russia had sponsored hacking into the presidential election and have grown louder with recent controversies. His administration already has lost its first national security adviser, Michael Flynn, over his misrepresentations of a call discussing U.S. sanctions with the Russian ambassador. This week, CNN broke the news that the FBI rejected the White House's requests to make public comments denouncing news stories on contacts between the Trump team and Russia, and the Washington Post reported that the administration has enlisted intelligence officials and members of Congress to push back on such stories.
The Senate Intelligence Committee, chaired by North Carolina Republican Senator Richard Burr, is beginning its own review of Flynn's conversations and possible Trump team contacts with Russia, although Democrats continue to call for either a special prosecutor or a select committee of Congress to investigate.
Republican Darrell Issa, a Trump ally, has joined Democrats' calls for a special prosecutor. "You cannot have somebody, a friend of mine, Jeff Sessions, who was on the campaign and who is an appointee. You're going to need to use the special prosecutor's statute," Issa said on HBO's "Real Time With Bill Maher." However, Issa said Saturday that Sessions should pick the prosecutor.
New Jersey Governor Chris Christie, the former head of Trump's transition team and an ex-U.S. attorney, disagrees with the California Republican.
"The Justice Department, over the course of time, has shown itself, with the professionals that are there, to have the ability to investigate these type of things," Christie said. "When a special prosecutor gets involved, the thing gets completely out of control. And I think that doesn't serve anybody's purposes. We have a lot of important problems to deal with in this country. And this is—I'm not saying that is not one of them, but I believe the Justice Department can handle it."
Senator Tom Cotton, a Republican member of the Senate Intelligence Committee, said on NBC's "Meet the Press" that politicians are "getting ahead of ourselves" with calls for a select committee or special prosecutor. "There's no allegations of any crime occurring. There's not even an indication that there's criminal investigations underway by the F.B.I., as opposed to counterintelligence investigations, which the F.B.I. conducts all the time as our main counterintelligence bureau. If we get down that road, that's a decision that Attorney General Sessions can make at the time," Cotton said.
The new chairman of the DNC and the House Democratic leader both said on ABC on Sunday that Sessions couldn't possibly be impartial should the DOJ lead an investigation.
"What we need to be looking at is whether this election was rigged by Donald Trump and his buddy Vladimir Putin," said DNC chairman Tom Perez. "Having Jeff Sessions oversee such an investigation, it's really unfair to any foxes across America to say that would be the fox guarding the henhouse. We need an independent investigation, because that is a serious, serious issue...And when Sessions and Flynn are out there together campaigning, they clearly lack the authority and the objectivity to conduct that investigation."
Minority leader Nancy Pelosi flatly rejected Sessions' potential involvement. "The attorney general must recuse himself," she said. "But let's just take it back a step, you have seen a flurry of activities that are completely inappropriate, encouraging lawmakers, encouraging intelligence officials to say that something is one way or another. Let's have the investigation and find out the truth."