GOP, Scarred by Kavanaugh, Tries to Have Cake and Eat It Too With Jackson
Republicans are promising a "respectful" confirmation process for Ketanji Brown Jackson after what they described as malicious scrutiny of past conservative nominees to the Supreme Court.
GOP members of the Senate Judiciary Committee took time during Monday's opening statements to air grievances about the treatment of Brett Kavanaugh, Amy Coney Barrett and Robert Bork during their nomination hearings. Senator Ted Cruz called Kavanaugh's hearings "one of the lowest moments in the history of this committee," while Senator Ben Sasse said Barrett faced "religious bigotry." Both Kavanaugh and Barrett were confirmed to the bench.
Still, Republican senators have made it clear that, despite their criticism of Democrats' treatment of previous nominees to the Court, they plan to grill Jackson when questioning starts this week. Areas targeted by conservatives include her time as a public defender representing Guantánamo Bay detainees, her work on the United States Sentencing Commission and her record as a federal judge.
Senator Josh Hawley has asserted that Jackson's sentencing rulings for convicted child sex offenders were too lenient—charges that have been labeled by several news outlets as misleading. Hawley doubled down on that argument Monday as he listed seven specific child pornography cases he hopes to discuss with Jackson during the coming days.
Cruz said that "part of the Democratic effort to abolish the police is nominating justices that consistently side with violent criminals, release violent criminals, refuse to enforce the law and that results in jeopardizing innocent citizens."
Jackson can be confirmed to the Supreme Court without any Republican support, so long as Democrats remain united on her nomination. A simple majority is all that's needed to confirm a justice, and Democrats possess narrow control of the Senate thanks to Vice President Kamala Harris' tie-breaking vote.
Jackson, 51, was tapped by President Joe Biden last month to fill the seat being vacated by retiring Associate Justice Stephen Breyer. If confirmed, Jackson will be the first Black woman to serve on the Supreme Court in its 233-year history.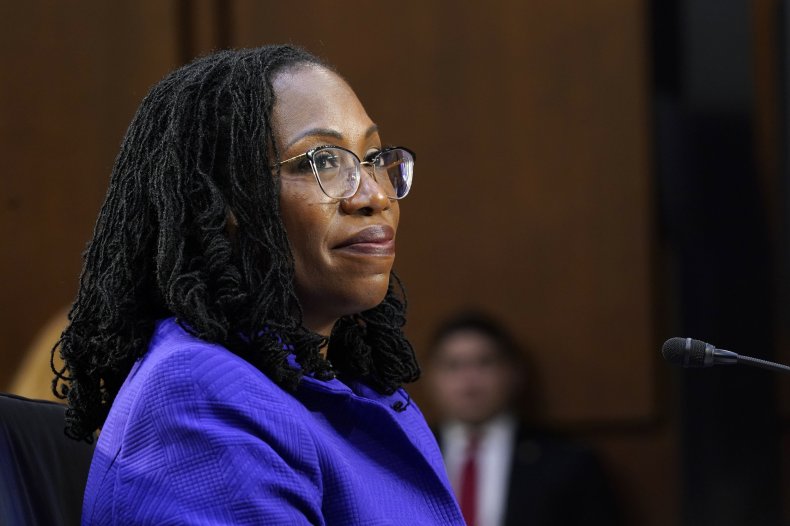 Democrats rallied around Jackson amid accusations from Republicans that she has a pattern of being "soft" on crime.
Senate Judiciary Committee Chairman Dick Durbin addressed the accusations in his opening statement, citing a National Review article calling Hawley's accusations "meritless to the point of demagoguery."
"We've heard claims that you're 'soft on crime,'" the Illinois Democrat said. "These baseless charges are unfair.... They fly in the face of pledges my colleagues made that they would approach your nomination with civility and respect."
Democratic Senator Richard Blumenthal of Connecticut said the allegations about Jackson's record are "unproven and unprovable" and "simply false."
Vermont Democrat Patrick Leahy also came to Jackson's defense as he highlighted that the judge comes from a law enforcement family and has been endorsed by the Fraternal Order of Police, which is the largest police union in the U.S.
"Her background as a federal public defender would bring an informed perspective on our criminal justice system to the Supreme Court," Leahy said.