GOP Secretary of State Rejects Trump's Claim of Mail Voting Fraud, Says He's 'Undermining Confidence'
Republican Washington Secretary of State Kim Wyman rejected President Donald Trump's claim of mail voting fraud and accused him of undermining confidence.
Trump insisted that voter fraud was rife during his Thursday night NBC News town hall in Miami, Florida.
"When I see thousands of ballots, right, unsolicited ballots being given out by the millions and thousands of them are dumped in dumpsters and when you see ballots with the name—Trump military ballots from our great military and they're dumped in garbage cans," the president said.
Speaking on CNN, Wyman on Friday expressed concern over voter fraud warnings made by Trump during his town hall event Thursday evening.
"You're a Republican, but the nation's top Republican is saying fraud, rigged, saying things that are frankly wrong, correct?" asked host John King.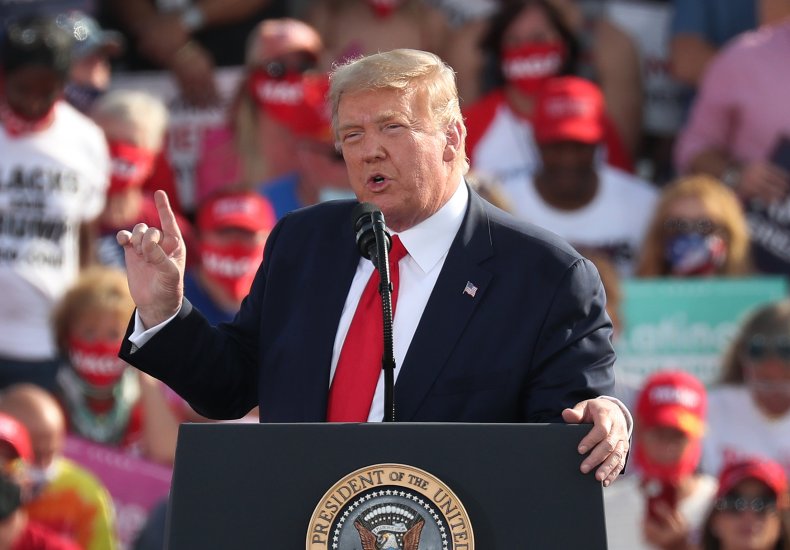 "That's correct, and every time President Trump takes a swing at absentee ballots or vote-by-mail ballots it undermines confidence," Wyman replied, adding that "officials have more to do to make sure their voters know that their vote is protected, their vote is going to be counted accurately and we're going to count for every vote we receive."
Wyman acknowledged there are still instances where ballots have been discarded or in wrong locations and put forth her plan to address the issue.
"We're trying to keep up our voter rolls to make sure we have the most accurate address, get the ballot to the voter on the first try and the right ballot to the voter," she said. "But people move, and in an apartment or condominium we'll have opportunities for people to receive someone else's ballot that's why we have security measures in place to make sure only the voter it was issued to gets to cast that ballot."
Moderator Savannah Guthrie challenged Trump on his voter fraud claims on Thursday night, saying that the president's "own FBI director said there's no evidence of widespread fraud."
Trump responded by criticizing FBI Director Christopher A. Wrap.
"Oh, really? Then he's not doing a great job," he said. "There's a tremendous problem."
Allegations of widespread voter fraud from mail-in voting have been debunked by a number of studies. Kentucky recently found 100 empty ballots in dumpsters, but there is no direct link between the incident and voter fraud. Protections are put in place to ensure only eligible voters can cast a mail ballot, including signature matching.
Newsweek reached out to the Trump campaign for comment.