GOP Sen. Alexander: Trump Has No Right to Bring 'Specious Lawsuits With No Evidence' to Court
Senator Lamar Alexander, a Tennessee Republican, said that President Donald Trump's lawyers do not have a right to bring "specious lawsuits with no evidence" to court, criticizing the losing presidential candidate's legal strategy to overturn President-elect Joe Biden's victory.
The Supreme Court on Friday rejected a long-shot lawsuit filed by Texas Attorney General Ken Paxton, a Republican, to overturn the election results in Georgia, Michigan, Pennsylvania and Wisconsin—which all went blue for Biden. Multiple prominent Republican lawmakers—including Texas Senator John Cornyn—criticized Paxton's effort. But more than 120 Republicans in the House of Representatives, as well as the GOP attorneys general of 18 states, backed Paxton's failed Supreme Court brief.
"I think the most important thing for our country, as George Washington said when it was founded, is not the first election, but the second election, the orderly transfer of power. I think anything that detracts from that is not good for our democracy," Alexander, who is retiring, told NBC News' Meet the Press in an interview broadcast Sunday.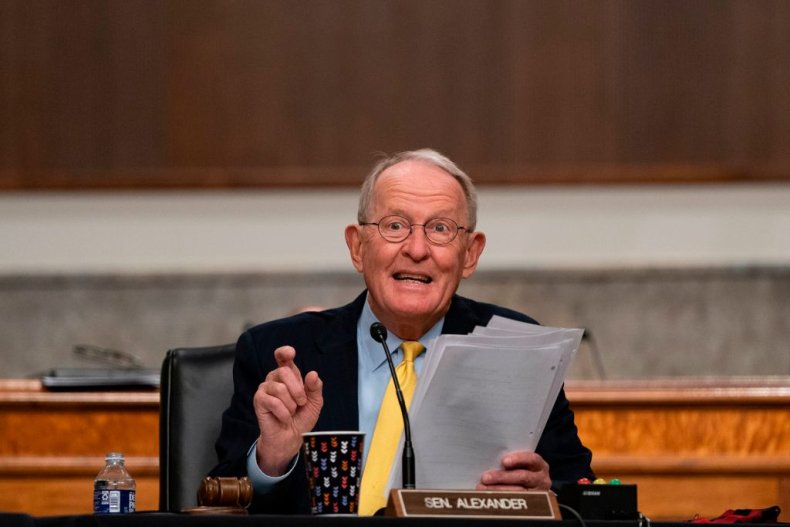 Although the Republican senator asserted that the president has a legal right to file challenges in court, he suggested any case needed to be backed by evidence.
"I don't think his lawyers have a right to go to court with specious lawsuits with no evidence. And I think the processes say it's over on Monday if the electors vote for Joe Biden, which I expect that they will," Alexander said.
The Electoral College is set to cast its ballots on Monday, with 306 votes going to Biden and 232 going to Trump.
Although the president and his supporters have brought more than 50 lawsuits to court, nearly all of them have been dismissed or rejected by judges—some of whom were appointed by Trump or other Republicans. Numerous judges have asserted in their rulings that lawyers representing the president and his allies have not provided evidence to back their unfounded claims of widespread voter fraud.
Trump has alleged—without providing evidence—that Biden was only successful in the election due to widespread election fraud. These claims have been debunked repeatedly, and Attorney General William Barr has said that there is no evidence of voter fraud that would change the election results. Barr was nominated by Trump in December 2018 and has been widely viewed as one of the president's most loyal and effective cabinet members.
Former New Jersey Governor Chris Christie, a Republican who helped Trump prepare for a September debate against Biden, strongly criticized the president's legal strategy on Sunday as well.
"Listen, the legal theory put forward by his legal team and by the president is an absurdity," Christie told ABC News' This Week. "And the reason why the Supreme Court didn't take it is because it's an absurd idea to think that any state, or any number of states, no matter how good they are, can challenge another state's right to run the election as they see fit. And also there's no evidence."
Christie had previously slammed Trump's lawyers as a "national embarrassment," urging the president to accept the reality of his election loss.
Newsweek reached out to the Trump campaign for comment, but did not immediately receive a response. The president continues to falsely insist that he won the election.