GOP Sen. David Perdue Sold Home to Official with Connection to Committee He Serves On
Georgia Republican Sen. David Purdue sold his Washington, D.C., home off-the-market last year to an industry official whose organization he oversaw, raising questions over whether or not the deal was a violation of Senate ethics.
The home was sold for $1.8 million to Hillary Sale, a board governor for the Financial Industry Regulatory Authority (FINRA), which falls under the purview of the Senate Banking Committee that Perdue sits on.
If Perdue sold his home above market value, experts say it would be a violation of ethics by providing an opportunity for favoritism among those with business before the Senate committee. At the time of sale, FINRA was lobbying the Senate.
"Since the purchase and sale of this property by Sen. Perdue was not done on the open market, it raises serious suspicions as to whether the sale was in fact at fair market value," Craig Holman, a political watchdog, told ProPublica.
If above fair market price, Holman added that, "this would be a violation of his ethical obligations and an opportunity for those with business pending before Perdue's committee to curry favor."
Technically, if Perdue received more money than he should have, the home would be considered a gift, which would need to be disclosed under Senate rules. But Perdue never disclosed any such gifts.
ProPublica spoke with five anonymous D.C., real estate agents who reviewed the transaction and gave the media outlet their own appraisal to determine the market price.
Four out of the five said the price was inflated, with one agent estimating the house sold for as much as 8 percent over market value. Only one agent said that the $1.8 million price tag was appropriate.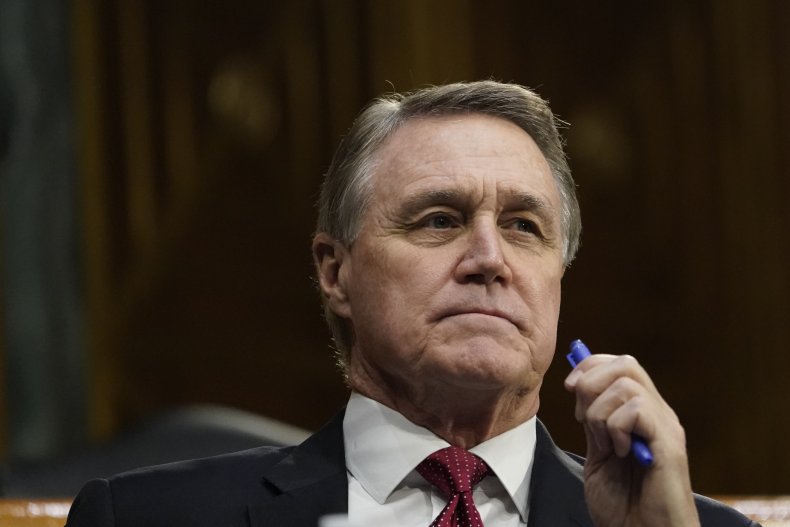 A spokesperson for Perdue said that the senator and his wife sold the house fairly, and that the transaction had nothing to do with the senator's committee role.
"None of this had anything to do with the senator's official role," the spokesperson told ProPublica. "The Perdues did not know any of the individuals, and they used the same realtor during the purchase and sale of the property."
Sale denied any wrongdoing as well, and said that she learned of the home through her real estate agent and never interacted with Perdue during the transaction.
But ethics experts told ProPublica that to prevent the appearance of a conflict, members of Congress should avoid deals with people they have business ties with, and to issue sales on the open market to ensure the price is fair.
Earlier this year, North Carolina Senator Richard Burr made a similar transaction by selling his home to a lobbyist who had business before him. But the senator said he approached the Senate Ethics Committee for advice beforehand, a step that Perdue's office declined to say they took.
Perdue, whose senate seat is up for grabs in a high-stakes senate runoff race this January against Democrat Jon Ossoff, has been scrutinized for a number of questionable financial dealings.
Earlier this year, Perdue invested hundreds of thousands of dollars in a pharmaceutical company and producer of personal protective equipment, after a January 24 closed Senate briefing on the coronavirus pandemic.
The senator was accused of insider trading after selling off $165,000 in stocks from the casino company Caesars Entertainment, which closed at the beginning of the pandemic.
An investigation by the Senate Ethics Committee cleared Perdue of the accusations, and his campaign has maintained that he was not a part of the January briefing.
On January 5, Perdue will face Ossoff in the Senate runoff race, while his fellow Republican incumbent Kelly Loeffler will fight to keep her seat against Democrat Raphael Warnock. If both Republican candidates lose, the Democrats will flip the Senate.
Newsweek attempted to contact Perdue for additional comment, but did not hear back in time for publication.
Correction: A previous version of this story referred to Hillary Sale as a lobbyist. She is a board governor for the Financial Industry Regulatory Authority (FINRA), which was lobbying the senate.