GOP Sen Josh Hawley Says 'Antifa Scumbags' Threatened His Wife and Newborn
Missouri Republican Senator Josh Hawley, who announced in December that he would challenge the results of the Electoral College during Wednesday's Congressional vote, said Monday that "Antifa scumbags" frightened his family at their Washington, D.C. home.
Hawley has drawn criticism for his decision to contest the electoral votes by lawmakers from both sides of the aisle. Washington D.C. police are anticipating protests in the city on Tuesday and Wednesday in connection with the electoral vote count. In a tweet, Hawley said that the incident occurred while he was in his home state of Missouri.
"Tonight while I was in Missouri, Antifa scumbags came to our place in DC and threatened my wife and newborn daughter, who can't travel," Hawley tweeted. "They screamed threats, vandalized, and tried to pound open our door. Let me be clear: My family & I will not be intimidated by leftwing violence"
Newsweek reached out to the Washington, D.C. Metropolitan Police Department for comment.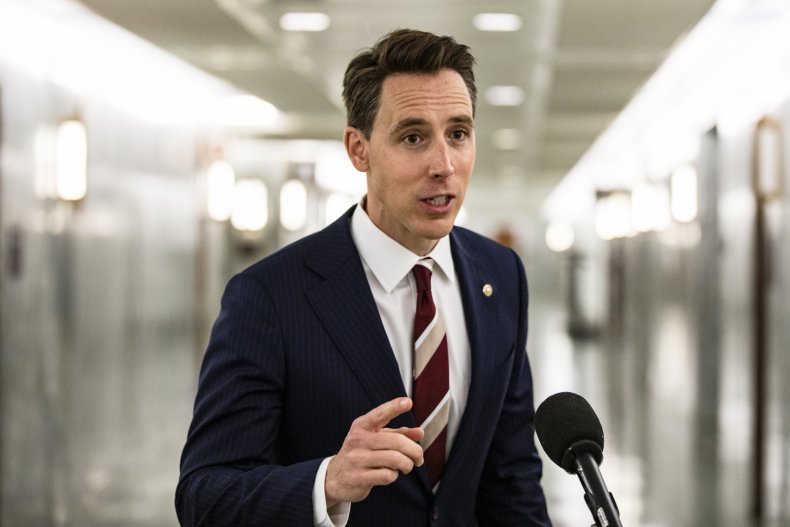 Protesters from the democracy advocacy group ShutDownDC said Monday they held a vigil at Hawley's home. According to the group's website, the demonstrators "lit candles and delivered a copy of the US Constitution to Hawley's door."
In a Monday statement, ShutDownDC activist Patrick Young said that Hawley's actions were "undemocratic and unacceptable. Voters decided who they wanted to be president and now Hawley is trying to silence their voices, even after Republican election officials certified the vote count."
Young added that since many of the votes in danger of not being counted came from Black and brown voters, the challenge to the electoral votes was "an attempted coup waged by silencing the voices of people of color."
Hawley tweeted that "now 'vigil' means screaming threats through bullhorns, vandalizing property, pounding on the doors of homes and terrorizing innocent people and children."
In December, Hawley became the first U.S. Senator to join with some Republican members of the House in order to challenge the Electoral College count. At the time, Hawley said his decision was based on his concerns over Congress's lack of action in investigating President Donald Trump's claims of voter fraud.
Trump has repeatedly stated that election manipulation was employed by Democrats in order to swing the results of November's presidential election to President-elect Joe Biden. Trump has refused to concede the victory to Biden. Attorneys have filed multiple pieces of litigation on behalf of the Trump campaign attempting to overturn the results of the election. A majority of those lawsuits have failed. Many observers have described Trump's claims as baseless and unsubstantiated.
Former Republican Missouri Senator John Danforth criticized Hawley's decision on Monday.
"At a time of extreme polarization, the populist strategy is to drive America even farther apart by promoting conspiracy theories and stoking grievances," Danforth said in a statement. "We must reject this strategy and reclaim America's historic purpose of holding our diverse nation together as one people."
Objections to the congressional count are not expected to change the outcome of the presidential election but could drag the process out longer than originally anticipated. In order to formally challenge the electoral votes, a member of the House and a member of the Senate must sign off on a challenge. At that time, members of both chambers pause the count while they debate the objection, which could take up to two hours per challenge. Currently, Democrats hold a majority in the House and are expected to object to any challenges posed to the count by Republicans.