GOP Sen. Martha McSally's Campaign Ad Mistakenly Shows Opponent's Twin Brother
A campaign ad shared by Senator Martha McSally, an Arizona Republican, appears to have mistakenly used a photograph of her Democratic challenger Mark Kelly's twin brother, Scott Kelly, instead of an image of her opponent.
Mark Kelly, a retired astronaut and former U.S. Navy captain, is leading McSally by double digits in three recent polls. In the new ad, McSally tells Arizona voters "you deserve the truth," but in the middle of the 30-second clip, an image of her Democratic challenger's brother Scott Kelly, who is also an astronaut, flashes across the screen with the words: "Mark Kelly: Lying about pre-existing conditions." The Tucson Sentinel first reported that Scott Kelly's image had been used.
The photograph of Scott Kelly was taken at an event for the Swiss luxury watchmaker Breitling in New York City on February 22, 2018. Newsweek compared the photograph from the ad to those available on Getty Images, Alamy and ShutterStock, confirming that the image is of Scott Kelly—not Mark Kelly. A few photographs on ShutterStock appear to incorrectly refer to Scott Kelly as Mark Kelly—including the image that was used in McSally's campaign ad.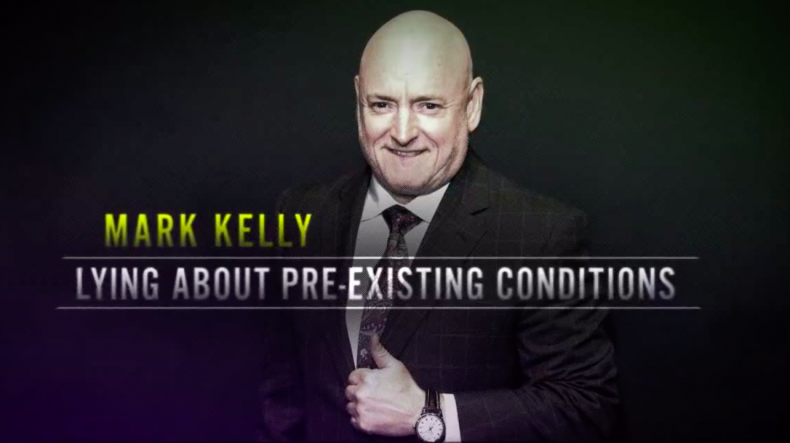 Newsweek reached out to Kelly's and McSally's campaigns for comment, but neither responded to questions by the time of publication.
McSally repeatedly described Mark Kelly as "counterfeit Kelly" in their debate earlier this month. The Tucson Sentinel pointed out the irony that the Republican incumbent has now used a "counterfeit Kelly" image in her campaign ad. McSally was previously panned by critics for using the term.
Scott Kelly commanded three missions aboard the International Space Station before he retired in 2016. The retired astronaut holds the record for the most days (340 days) spent in space by an American in a single spaceflight. He also ranks third for the highest number of cumulative days (520) by an American. (Peggy Whitson holds the top spot, with 665 cumulative days.)
The campaign gaffe appears unlikely to significantly impact voters' perceptions in Arizona. Mark Kelly has been widely favored to win the Senate race for several months.
A poll carried out by CBS News/YouGov from October 13 to 16 showed Mark Kelly ahead by 11 percentage points—supported by 52 percent of likely Arizona voters compared to just 41 percent who backed McSally. Monmouth found similar results in a survey conducted from October 9 to 13: Kelly was ahead by 10 percentage points, with the backing of 52 percent of likely voters while just 42 percent supported McSally.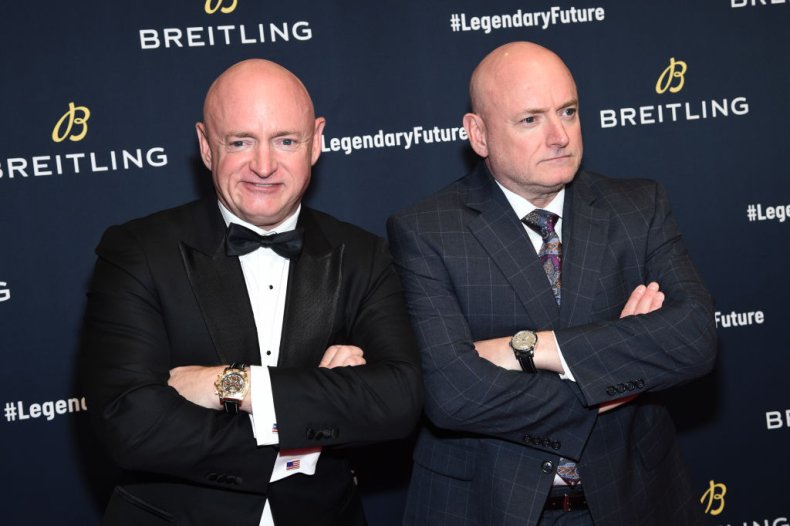 The Republican incumbent was not elected to the Senate. Instead, she was appointed in December 2018 by Arizona Governor Doug Ducey, a Republican, to serve out the remainder of Senator John McCain's term, following his death. She previously lost her 2018 Senate race against Democratic rival Kyrsten Sinema—who continues to represent Arizona in the Senate.