Wisconsin Republican Senator Ron Johnson announced plans to hold a news conference to discuss adverse reactions related to the COVID-19 vaccine, drawing backlash from health care experts who view the move as "dangerous" and a way to promote misinformation.
In a statement Friday, Johnson said he plans to give a platform to six people from across the country who claim to have had negative health reactions after receiving the coronavirus jab. Johnson said the conference will take place Monday to allow the individuals to tell their stories and discuss issues that have been "repeatedly ignored" by the medical community, according to the Milwaukee Journal Sentinel.
The Republican senator, who has been a vocal critic of vaccine mandates and has previously advocated for alternative and unproven drug treatments to COVID-19, faced immediate backlash from critics who feel the event will be a platform for spreading misinformation about the safety of vaccines.
Dr. Jeff Huebner, a doctor in Madison, Wisconsin, said that Johnson was "promoting dangerous and unfounded claims" about the vaccine that contradict medical research and analysis.
"As a member of the Wisconsin medical community I'm gravely concerned about the impact his event and remarks will have on our ability to return to normal and protect Wisconsinites from COVID-19.," Huebner said in a statement, the Journal Sentinel reported.
Joanna Bisgrove, a Wisconsin primary care doctor, told FOX6 that Johnson's statements and event are "putting people at risk and already hurting people."
Tony Evers, the state's Democratic governor, added Friday that Johnson was being "reckless and irresponsible" and said the event was "jeopardizing the health and safety" of the state's vaccine rollout and economic recovery.
In defense, Johnson said Friday that he is "just asking questions" and isn't against the vaccine.
"We're all supporters of vaccines. As I've repeatedly said, I'm glad that hundreds of millions of Americans have been vaccinated, but I don't think authorities can ignore and censor some of the issues," Johnson said in a tweet responding to Evers. "On Monday, we'll bring light to stories that deserve to be seen, heard & believed."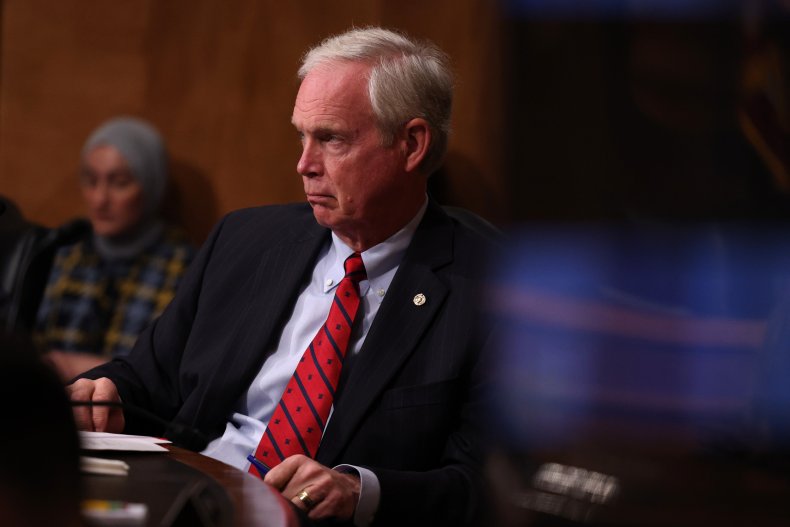 Monday's event in Milwaukee will include statements from former Green Bay Packers player Ken Ruettgers and his wife, Sheryl.
Johnson said Sheryl Ruettgers will detail "severe neurological reactions that still inhibit her ability to live a normal life, including muscle pain, numbness, weakness and paresthesia" that she experienced after getting the COVID-19 vaccine earlier this month.
Additional testimonies will be heard from individuals from Ohio, Missouri, Utah, Michigan and Tennessee.
The medical community has long stressed that the benefits of the COVID-19 vaccine far outweigh the risks of possible side effects.
Earlier this week, top U.S. health officials, medical agencies, laboratory and hospital associations issued a statement reiterating the benefits by stating that getting vaccinated is the "best way to protect yourself, your loved ones, your community, and to return to a more normal lifestyle safely and quickly."
Newsweek contacted Johnson for additional comment, but did not hear back in time for publication.
Newsweek, in partnership with NewsGuard, is dedicated to providing accurate and verifiable vaccine and health information. With NewsGuard's HealthGuard browser extension, users can verify if a website is a trustworthy source of health information. Visit the Newsweek VaxFacts website to learn more and to download the HealthGuard browser extension.