GOP Sen. Toomey Admits Congress Must Raise Debt Ceiling Despite Democrats' Spending
Senator Pat Toomey, a Pennsylvania Republican, blames Democrats' proposed massive spending for his decision not to raise the debt ceiling. However, he also admits that the ceiling would have to be raised whether or not that spending is approved.
Nearly all Senate Republican lawmakers are expected to vote against raising the debt ceiling as Democrats aim to do this week in a bid to avoid a government shutdown. GOP leaders have argued that Democrats should pass the debt ceiling increase through the budget reconciliation process—which they could do without any Republican support. Meanwhile, Democrats have pointed out that most Republicans voted to increase the debt ceiling under former President Donald Trump—when nearly $8 trillion was added in just four years.
Toomey touted the Republican position in an interview with CNN on Sunday, blaming Democrats' proposals to spend trillions more in the coming years for his refusal to back raising the borrowing limit.
"They are in the midst of an absolutely unprecedented, very damaging spending spree on a scale that we have never seen. And they want us to come along and authorize the borrowing to help pay for it, when we are totally opposed to what they're doing," the Pennsylvania Republican told host Jake Tapper on State of the Union.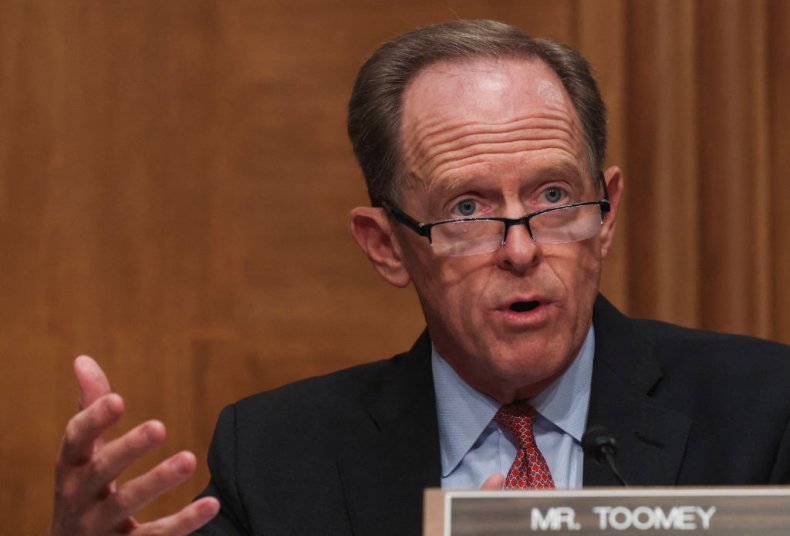 Later in the interview, Tapper pointed out that the debt ceiling would need to be increased even if the trillions in additional spending proposed by Democrats was not on the table. Toomey admitted that this assessment was correct.
"Even if the $3.5 trillion spending package that's being discussed, the budget reconciliation and the infrastructure, the bipartisan infrastructure bill, even if those were tabled in perpetuity, would Congress have to raise the debt ceiling or not?" Tapper asked.
"At some point, we would," the Republican senator said. He went on to say that it would be by "a smaller amount."
"The timing of this is coming much more quickly. And the scale is much greater than it would otherwise be," Toomey added.
Speaker of the House Nancy Pelosi, a California Democrat, attacked Republicans' stance on the debt ceiling during a Sunday interview with ABC News' This Week.
"We cooperated on three occasions when President Trump was president in order to lift the debt ceiling," Pelosi said, saying the GOP lawmakers were "irresponsible beyond words." She warned that "even to have the discussion that it could possibly be in default lowers ... our credit rating."
House Democrats last week approved lifting the borrowing limit through December 2022 with a party-line vote. But that measure is expected to fail in the Senate, where it is expected to face a filibuster from Republicans. Without the support of at least 10 GOP senators and all members of the Senate's Democratic caucus in the evenly split (50 to 50) legislative chamber, the debt ceiling increase won't be approved.