GOP Senate Candidate Calls Fauci a 'Mass Murderer' and Kyle Rittenhouse an 'American Hero'
Jackson Lahmeyer, who is looking to oust Republican Senator James Lankford of Oklahoma, said America is "upside down" if Dr. Anthony Fauci, director of the National Institute of Allergy and Infectious Diseases (NIAID), can walk free and Kyle Rittenhouse is imprisoned.
Rittenhouse, 18, is awaiting a jury's verdict in a homicide trial for the fatal shooting of two men and wounding of a third during protests over the police shooting of Jacob Blake. Lahmeyer labeled Rittenhouse an "American hero," and said the person who belongs behind bars is Fauci, America's top infectious disease expert.
"They worship a mass murderer. He belongs in prison," Lahmeyer said in a Facebook live stream on Tuesday, referencing Fauci. "But Kyle Rittenhouse, who defends himself against a convicted pedophile, a convicted woman beater, is fighting for his life not to go to prison. Our nation is living upside down right now."
Lahmeyer, a pastor, has been endorsed by several allies of former President Donald Trump, including former national security advisor Mike Flynn and former advisor Sebastian Gorka. He's pledged to criticize Fauci daily, calling him the "greatest con man in the United States of America, who's gotten away with murder."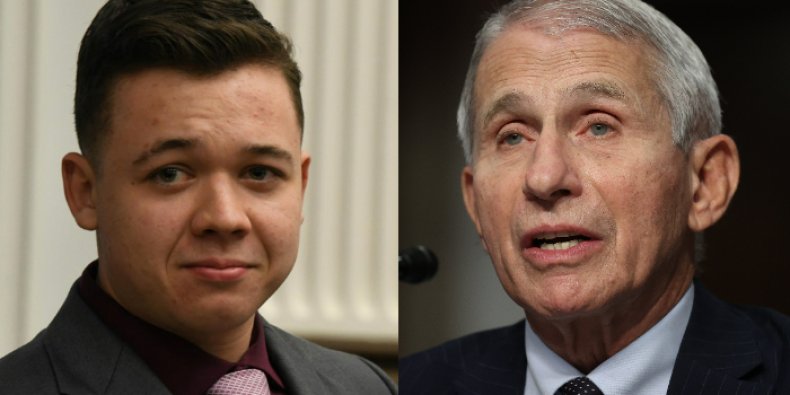 Fauci, who has advised every president since Ronald Reagan, has come under scrutiny since the start of the pandemic. He's faced a barrage of attacks for shifting his view on public health measures, including masks, moving goalposts for vaccinations and advocating for boosters. He's also faced pushback for National Institute of Health grants that funded research at the Wuhan Institute of Virology.
The infectious disease expert maintains the funds weren't used for gain-of-function research, a controversial method that involves making pathogens more dangerous to humans. However, some disagree with his assessment and one origin theory is that an accidental leak at the Wuhan Institute of Virology caused the pandemic.
A smaller fraction of people, which includes Lahmeyer, believe that the virus was created as a bioweapon. He claimed Fauci is responsible for the deaths of "millions" of people who died from COVID-19, calling him a "mass murdering demon doctor."
"Anthony Fauci needs to be fired, arrested and convicted for crimes against humanity," Lahmeyer said.
In contrast, Lahmeyer praised Rittenhouse as a "patriot" who earned the pastor's prayers. Rittenhouse's murder trial has become a divisive case, raising debates over gun rights, racial injustice and self-defense.
Last year, Rittenhouse shot and killed Joseph Rosenbaum, 36, and Anthony Huber, 26, and wounded Gaige Grosskreutz, 27. Rittenhouse, who was 17 at the time, was a former police youth cadet and said he left his home in Illinois with his firearm and traveled to Kenosha, Wisconsin to help protect property from rioters.
"People are getting injured and our job is to protect this business," Rittenhouse told a Daily Caller reporter before the shootings. "And part of my job is to also help people. If there is somebody hurt, I'm running into harm's way. That's why I have my rifle."
Rittenhouse pleaded not guilty and maintains that he was acting in self-defense. His attorney argued Rosenbaum chased the 17-year-old and attempted to steal his gun. Video footage shown in the trial depicted Huber swinging a skateboard at Rittenhouse before he was shot.
Grosskreutz admitted to pointing his own gun at Rittenhouse, who he believed was an active shooter. Prosecutors argued Rittenhouse was a vigilante and a "chaos tourist" who was the aggressor, not the victim, of the violence.
Jurors started deliberating on Tuesday morning on the five felony charges Rittenhouse faces. If convicted he faces life in prison.