GOP Senate Candidate Calls Mitch McConnell's Father-in-Law 'Wealthy Chinaperson,' Refuses to File Financial Disclosures
Updated | Don Blankenship, a West Virginia Republican Senate candidate who spent a year in prison for his role in a mining accident that killed 29 miners, has little respect for the rules and decorum of the legislative body he's hoping to join, according to a Wednesday profile in the New York Times.
The former coal baron has refused to file legally required personal financial disclosures with the Senate because, as he told the Times, "there isn't much of a penalty" for not doing so. He also attacked Senate Majority Leader Mitch McConnell, a fellow Republican, on Monday, telling a West Virginia radio show that McConnell might face a conflict of interest with regards to China because his father-in-law is a "wealthy Chinaperson." McConnell is married to Transportation Secretary Elaine Chao.
"There's a lot of connections to some of the brass, if you will, in China," said Blankenship, who is engaged to be married to a Chinese immigrant. Despite his harsh words for McConnell, Blankenship has shown great admiration for the Chinese government and contemplated moving to China at one point in time.
"The Chinese are running a dictatorial capitalism and it's very effective," Blankenship told the Times. "That's the way corporations are run. Corporations are not a democracy."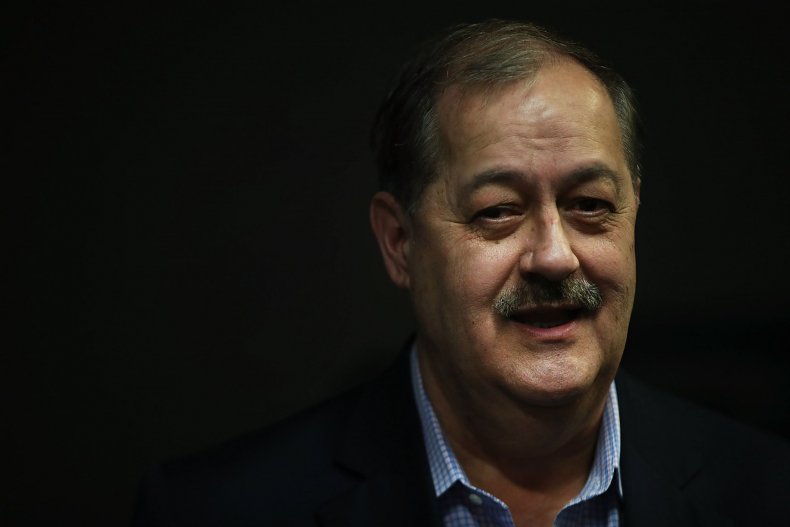 Blankenship is currently in a three-way race for the right to face off against West Virginia Democratic Senator Joe Manchin this November. While recent polling has suggested he is currently in third place, the prospect of Blankenship winning the nomination, and losing to Manchin, has spooked Washington D.C. Republicans enough to begin attacking his candidacy on West Virginia airwaves. A Super PAC linked to Mitch McConnell has spent more than $740,000 on ads opposing Blankenship, federal election filings show.
Blankenship has previously called McConnell the "swamp captain" and compared him to the Russians for interfering with the West Virginia election.
"The Republican Party swampers in Washington have come to the surface to oppose my candidacy for the U.S. Senate. They are swamp creatures who pretend to be conservatives but are instead liberal big spenders," Blankenship said last week.
McConnell has downplayed any feud with Blankenship, while making clear his preference for Blankenship's Republican competitors.
"We'll wait and see who the nominee is and get behind a Republican candidate and hopefully it will be one who's actually electable," he told reporters last week.
This story has been updated to correct the fact that 29 miners, not 10, were killed in the mining accident and that Blankenship is engaged to, rather than married to, a Chinese immigrant.