Arizona Senate candidate Kelli Ward suggested that the announcement Friday that the treatment of Senator John McCain's cancer was being discontinued was timed to hurt her campaign.
Hours after Ward made the accusation, McCain died, aged 81.
A former state senator, Ward is one of three candidates vying to replace retiring Arizona Senator Jeff Flake, and is a longtime critic of McCain.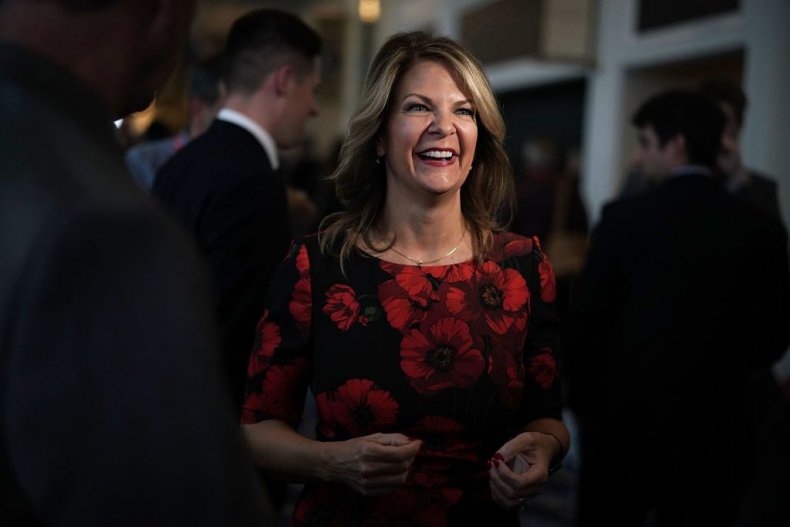 Following the Friday announcement by McCain's family that the senator's treatment for brain cancer would not continue, Ward commented on Facebook that "I think they wanted to have a particular narrative that they hope is negative to me."
The Arizona Republic reported that Ward made the comments in response to a Facebook posting by one of her campaign staffers, who questioned whether the timing of the announcement was "just coincidence" or was designed to detract attention from the start of Ward's campaign bus tour.
The newspaper reported that Ward's comment has since been removed.
On Friday, Ward had continued to attack McCain after the announcement of his treatment ending was announced, Politico reported.
"We have a choice. Are we going to elect another senator cut from the same cloth as Jeff Flake and John McCain?" Ward said during two campaign stops Friday afternoon, reported the outlet.
Both times, the crowd responded "No."
On a campaign bus Friday, Ward had described McCain's illness as a "sad thing" but refused to let up in criticism of his policies.
"I'm sorry that he's sick. It's a horrible thing. But that doesn't mean that his policies suddenly became good. They didn't," she old reporters.
While McCain was a staunch critic of President Donald Trump, Ward has focussed on her ties to and support for the president and his anti-immigrant policies. In a bid to woo anti-establishment conservatives, controversial 'Pizzagate' conspiracy theorist and troll Mike Cernovich is scheduled to appear alongside her on her bus tour.
Ward challenged McCain for his senate seat in 2016, and was defeated.
In a statement to the Republic on Ward's Facebook comment, Aaron Borders, former second-vice chairman of a Maricopa County Republican Party group, condemned Ward's comments.
"It's wildly inappropriate," said Borders. "It's classless. It's not decent ... it's very narcissistic. It's a narcissist comment to sit there and think that the McCain family made this decision to interfere with your bus tour."
Kelli Ward's campaign has not responded to a request for comment.