GOP Senate Candidate Says Michael Flynn Group Asked Him to 'Gather Intelligence' on Lawmakers
Everett Stern, a Republican candidate running to represent Pennsylvania in the U.S. Senate, revealed Sunday that aides to former national security adviser Michael Flynn allegedly asked him to "gather intelligence" on various lawmakers and judges for extortion purposes.
Speaking to a group of reporters, Stern said representatives for Flynn approached him through his Patriot Caucus group earlier this year with the objective to influence lawmakers to support election audits in favor of former President Donald Trump.
"They wanted to gather intelligence on senators, judges, congressmen, state reps, to move them towards the audit. The word 'move' was emphasized tremendously," Stern said. "What they wanted was to extort and to literally move people towards the audit with dirt."
Stern, who owns the private intelligence agency Tactical Rabbit, alleged that Flynn and others sought to use his company in April to gather information and recruit intelligence officers "both domestic and foreign." Stern said he believes he was approached by the group because his firm had access to a wide range of lawmakers.
Stern said the Patriot Caucus was running operations out of multiple states, including Oklahoma, Nebraska and Virginia, using the financial support of Texas billionaire Al Hartman. In Pennsylvania, Stern said he was given two main targets to focus on: Republican Senator Pat Toomey and Republican Congressman Brian Fitzpatrick.
In conversations about those lawmakers, Stern was told to gather intelligence and to "accomplish the mission even if you have to use domestic terrorism."
"The severity and the danger of domestic terrorism in this group became very very apparent to me. It was extremely disturbing," Stern said.
He said he immediately alerted the federal government and the Pennsylvania GOP about the group's operations and did not comply with their requests.
"I believe that General Flynn has committed treason against the United States," Stern said on Sunday. "Based on what I have seen and witnessed, I truly believe that's the case."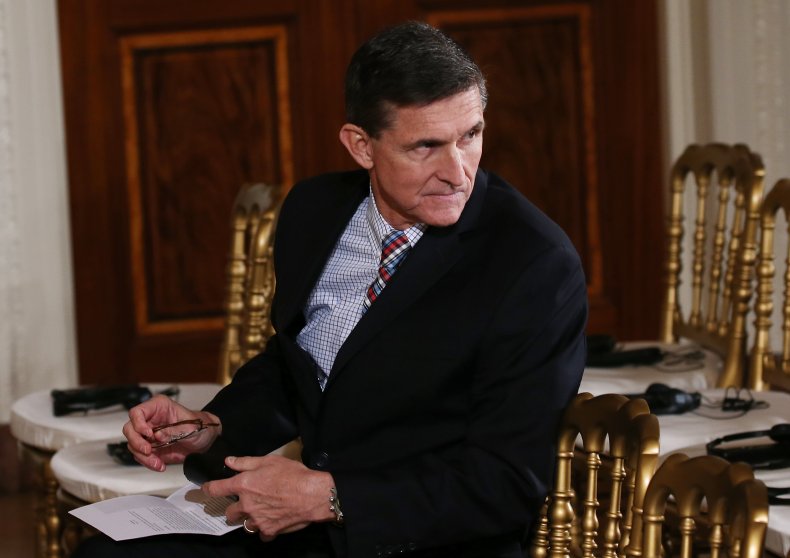 Flynn, a retired U.S. Army lieutenant general and former national security adviser to Trump, has been a leading voice in supporting conspiracy theories regarding the 2020 presidential election. The organization America's Future, of which Flynn is its chairman, was one of the groups that reportedly financed an election audit in Arizona.
Stern is looking to take over Toomey's seat in the Senate. He previously made headlines as a whistleblower at HSBC bank, where he helped expose international fraud and money laundering within the company.
Newsweek attempted to contact Flynn through his group America's Future.