GOP Senate Candidate Tells CNN's Chris Cuomo He Might Still Support Trump If He Admitted 'I'm a Racist'
CNN host Chris Cuomo and GOP Senate candidate Kris Kobach sparred on Tuesday over the context of recent tweets from President Donald Trump.
Trump's tweets calling for four freshman congresswomen — New York's Alexandria Ocasio-Cortez, Michigan's Rashida Talib, Minnesota's Ilhan Omar and Massachusetts' Ayanna Pressley — have been at the center of controversy when the president said the women should "go back" to their home countries. However, all but Omar were born in America. Omar became a naturalized U.S. citizen at age 17 after emigrating from Somalia with her family.
Kobach, who is running for a senate seat in his home state of Kansas, appeared on Cuomo Prime Time to discuss what Trump meant by his tweets and non-reaction or defending the president's words by many Republicans.
"Help me understand. How is it okay for people in your party to say 'I'm not condemning these words, they're not racist'?," Cuomo asked.
"First of all when you look at the words themselves - when the president said I think people are focusing on that these members of Congress should go back to the crime-infested places from which they came, right?" Kobach responded. "So where are those places? In AOC's case, it's the Bronx. In Talib's case, it's Detroit, and in Omar's case, it is originally Somalia - those are all crime-infested places. And in Somalia's case, there's terrorism, too. So it's a fact. To simply state that fact is not racist."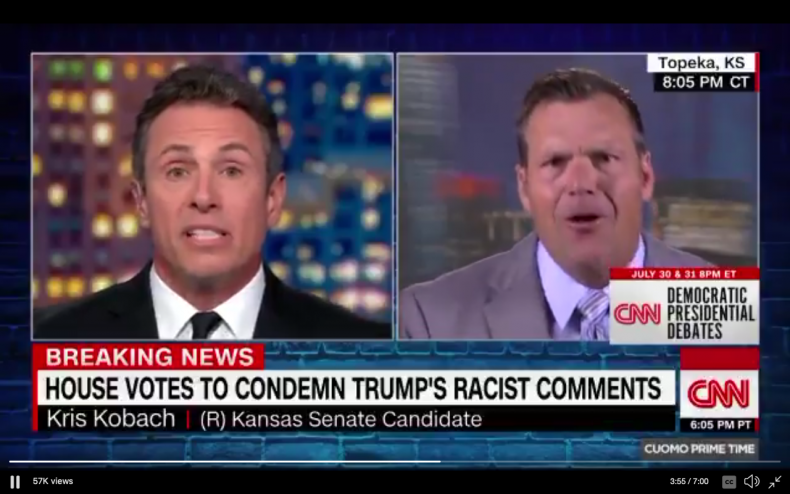 Cuomo challenged Kobach's explanation by saying that Trump told the freshman Democrats to go back to their country of ethnic origin and that Trump had gone on to 'double and triple down' on his comments.
"That's the part I don't get, Kris," Cuomo said. "If you are going to excuse what he said, then don't twist what he said. Own the reality. He told four brown people go back to the places that you come from. You don't belong here."
The former Kansas Secretary of State replied that Cuomo was editorializing Trump's comments "and adding content to his tweet."
Cuomo countered that the president said the words prompting Kobach to reply, "he didn't say it like you said it."
"Let's put it in context," Kobach said after Cuomo challenged him regarding what Trump said. "Clearly, what the president was making was a larger argument about love it or leave it. If you're gonna criticize America so much, go back to or go somewhere else."
"Why doesn't he ever say that to white people?" the CNN host asked, prompting Kobach to say that Trump would say the same thing to white people critical of the U.S.
Kobach later conceded that Trump telling three American-born women to return to their country of origin makes no sense and "that is the problem with Twitter."
Later in the segment, Cuomo asked if Kobach would support Trump if the president admitted he is racist.
"Uh, then I would not defend him, because there's no excuse for racism in America," Kobach replied
"Really? Would you still support him as president?," Cuomo questioned.
"Uh. I don't know," Kobach said after a pause.
"You have to think about it! You have to think about whether or not you would support a racist! Really!," Cuomo replied, prompting Kobach to say that his support would depend on who was running against Trump.
"A racist! An admitted racist you would have to know more?" Kris, come on, man. It can't be that partisan," Cuomo said.
Kobach responded to say that the question was a "ridiculous hypothetical."
"It's ridiculous that it took you that long to answer it. You're running for Senate, and you have to take a pause on whether or not if he said he was a racist you'd still support him. Come on, brother," Cuomo said.