GOP Senate Candidates 'Encouraged' by High Turnout In North Georgia Where Trump Rallied
Georgia Republican Senators Kelly Loeffler and David Perdue said Tuesday that indications of a large voter turnout for Tuesday's special election were encouraging, but that the final outcome could be close.
Tuesday's special Senate election in Georgia will determine which political party controls the U.S. Senate. President Donald Trump campaigned on behalf of Loeffler and Perdue at an outdoor rally in Dalton, Georgia on Monday. Both GOP Senators have announced that they would object to the certification of President-elect Joe Biden during Wednesday's Congressional count in support of Trump's baseless claims of widespread voter fraud.
"We are encouraged by reports of high voter turnout across the state – particularly so in North Georgia, where President Trump rallied Republicans last night," Loeffler and Perdue said in a joint statement. "But make no mistake about it: this is going to a very close election and could come down to the difference of just a few votes in a few precincts across the state."
Loeffler is running against Reverend Raphael Warnock, a first-time political candidate who serves as the pastor at Ebenezer Baptist Church in Atlanta. Democrat Jon Ossoff has referred to his opponent, incumbent Senator Perdue, as a "coward" for bowing out of a series of scheduled debates.
Newsweek reached out to the Warnock and Ossoff campaigns for comment.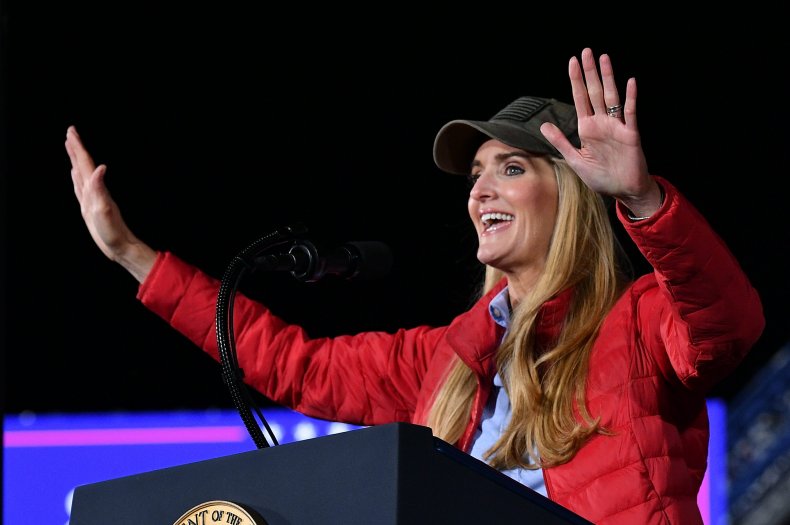 During his Monday speech, Trump encouraged attendees to vote for Perdue and Loeffler while painting Warnock and Ossoff as radicals.
"David and Kelly are running against the most extreme liberal candidates in the history of your state, probably in the history of the country," Trump said.
Many Georgians have already voted in the election by casting early ballots. According to data from the U.S. Elections Project, 3,093,375 early votes were cast in the January Senate race, representing a total of 40 percent of all registered voters in Georgia.
Perdue and Loeffler have both announced that they would join with other GOP lawmakers in challenging President-elect Joe Biden's win in the November election. In a Monday statement, Loeffler said she would join the objections in order to "restore trust, confidence & integrity in our election system."
Trump has attempted various legal actions to overturn the election results in his favor. A majority of those lawsuits have failed. Some Republicans view challenging the Congressional certification of the Electoral College votes as the last chance for Trump to retain the presidency.
Despite the Congressional count slated for Wednesday, the day after the election, Loeffler and Perdue would still be able to challenge the count even if they lose the runoffs. If both Warnock and Ossoff win the Senate seats, they won't be sworn in until after the statewide election results have been certified. Georgia counties must certify their results by January 15. After that, Georgia Secretary of State Brad Raffensperger will need to certify the statewide results by January 22.
Victories for both Warnock and Ossoff would essentially give Democrats control of the Senate. A Democrat sweep in Georgia would split the Senate evenly between Democrats and Republicans. However, in the case of a deadlock, Vice President-elect Kamala Harris would be responsible for casting the tie-breaking vote. Republicans only need to win one seat to hold a majority in the Senate.