GOP Senator Breaks With Trump on 'Hang Mike Pence' Chants Being 'Common Sense'
Republican Sen. John Barrasso of Wyoming broke with Donald Trump after the former president said that crowds chanting "hang Mike Pence" on January 6 amounted to "common sense."
During an appearance on ABC News' This Week on Sunday, host George Stephanopoulos grilled the GOP senator over whether or not he agreed with Trump's sentiment about the violent chants.
Despite initially avoiding the topic by first praising Trump and then insisting former Vice President Pence was safe during the insurrection, Barrasso admitted that he did not agree with Trump's view.
"It's not common sense," Barrasso said, before moving on quickly to the topic of voter fraud in the 2020 election.
"There are issues of every election. I voted to certify the election. And what we have seen on this election, there are areas that needed to be looked into, like what we saw in Pennsylvania. We all want fair and free elections. That's where we need to go for the future."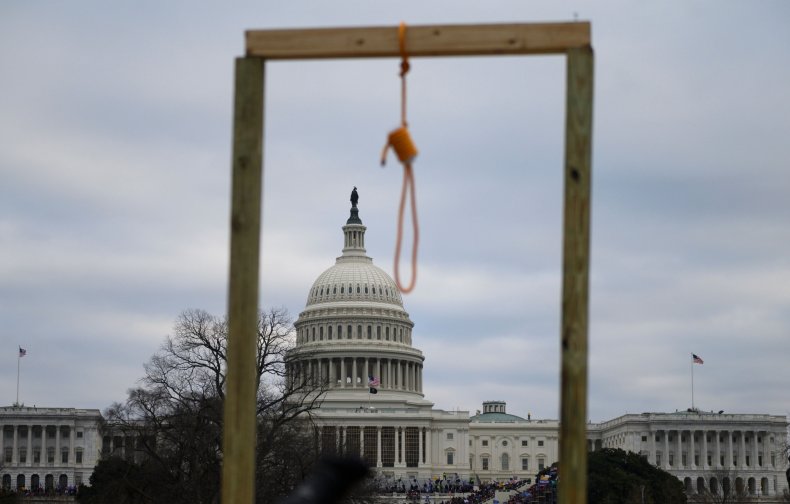 Newsweek reached out to Barrasso and his office for a comment.
The issue arose recently when the former president was asked during an interview with ABC News Washington correspondent Jon Karl about whether or not he felt that Pence was safe during the assault on the Capitol by a mob of pro-Trump supporters.
"No," Trump said initially. "I thought he was well-protected and I had heard that he was in good shape."
When asked specifically about rioters chanting "hang Mike Pence," the former president supported the notion and tied it back to his widely disproven claims of voter fraud in the 2020 presidential election.
"Because it's common sense," Trump said. "If you know a vote is fraudulent, right, how can you pass on a fraudulent vote to Congress?"
Also on Sunday, Republican Rep. Fred Upton of Michigan condemned Trump's defense of the violent chants in stronger terms during an interview with CNN host Jake Tapper, Mediaite reported.
"It's not right," Upton said, referring both to Trump's recent defense of the rioters and the defense he previously made during a phone call with House Minority Leader Kevin McCarthy. "It's not appropriate, and it's certainly not totally appropriate as the president said in his own words, in terms of his actions that he took that day."
Upton was among the 13 Republicans in the House who voted in favor of President Joe Biden's infrastructure bill. During his Sunday interview, he also discussed the numerous violent voicemails he has received because of that vote.
"It's a tough time, and it's so unsettling," Upton said. "It is a sad day in America when this type of stuff—I have got a better four-letter word for it, but I will save you—when it happens."