GOP Senator Chuck Grassley Slams 'Sexist' and 'Ageist' Democrats for Calling on Dianne Feinstein to Step Down
GOP Senator Chuck Grassley accused Democrats of having "ageist & sexist motivations" after calls from liberal groups for Sen. Dianne Feinstein to step down as top Democrat on the Judiciary Committee.
"Democrats calling for Senator Feinstein to step down from Judiciary Ranking Member should think twice abt [sic] their sexist & ageist motivations against an outstanding legislator & icon in her own right," Grassley tweeted on Wednesday. "Attacks on Senator Feinstein are totally unjustified."
"She's such an outstanding legislator, it's totally unjustified," he told Politico's Burgess Everett. "She's only three months older than I am, and I haven't announced I'm not running for reelection."
At 87 years old, the Iowa senator and former Judiciary Committee chairman is currently the most senior Senate Republican.
When asked for a comment, Grassley's office told Newsweek that the tweet speaks to his thoughts and that it doesn't have anything to add.
Last week, Feinstein drew waves of criticism from Democrats and liberal activists for praising Judiciary Committee Chairman Lindsey Graham's handling of the confirmation hearings for Supreme Court nominee Amy Coney Barrett. She told Graham that the Barrett hearings were "one of the best set of hearings that I've participated in" and thanked him for his "fairness."
While Senate Republicans rush to confirm Barrett to the Supreme Court as the November election quickly approaches, NARAL Pro-Choice America, Demand Justice and other liberal groups accused Feinstein of being far too accommodating to Republicans during the hearings and demanded that she be removed as the top Democrat of the committee.
"It's time for Sen. Feinstein to step down from her leadership position on the Senate Judiciary Committee," said Demand Justice Executive Director Brian Fallon, a former top aide to Senate Minority Leader Chuck Schumer, in a statement last week. "If she won't, her colleagues need to intervene."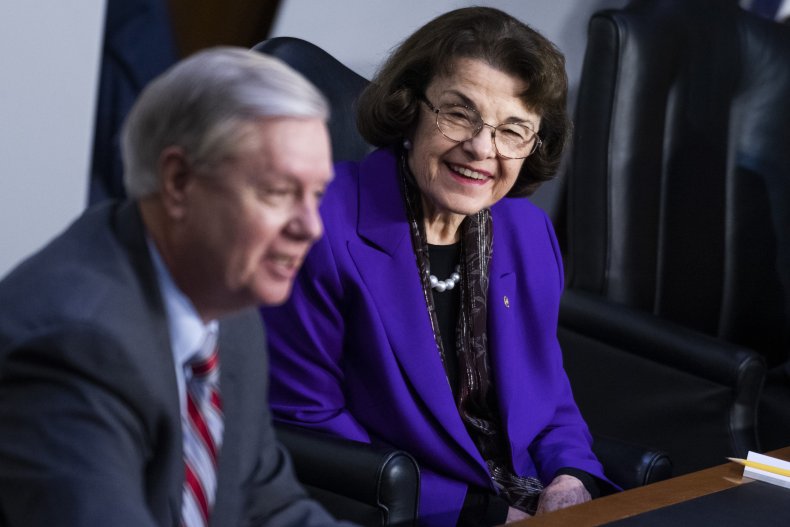 NARAL Pro-Choice America President Ilyse Hogue, who called the Supreme Court nomination "illegitimate" and "a sham," said in a statement on Friday that Feinstein "offered an appearance of credibility to the proceedings that is wildly out of step with the American people."
"As such, we believe the committee needs new leadership," Hogue added.
Newsweek contacted Feinstein's office, which said that it had no comment at this time.
While top Senate Democrats have remained largely quiet in regards to their thoughts on Feinstein stepping down, several Senate Republicans joined Grassley in defending her remarks.
"The left-wing attacks on Sen. Feinstein are a product of the frustration on the far left that their attacks [on Barrett] aren't working and their arguments aren't resonating," GOP Sen. Ted Cruz, who serves on the Judiciary Committee, told Politico on Tuesday, while GOP Sen. John Cornyn said it "would be a real shame if they run her off."
Senate Minority Leader Chuck Schumer told reporters on Tuesday that he spoke with Feinstein about the criticism.
"I've had a long and serious talk with Senator Feinstein," Schumer said. "That's all I'm going to say about it right now."
If Democrats win the Senate majority in November, Feinstein would take over as the chair of the Judiciary panel in Congress, which is currently held by Graham.