'That Was a Joke:' GOP Senator Who Said It's A 'Great Idea' To Make It Difficult For Liberals To Vote Backtracks
A Republican state senator in Mississippi facing a runoff election later this month has shrugged off outrage over comments she made to students appearing to support voter suppression as a "joke."
Filmed speaking to a small crowd of students in Starkville—a town roughly 25 miles west of Columbus—just days before the midterm elections, GOP State Senator Cindy Hyde-Smith can be heard saying: "There's a lot of liberal folks in those other schools who—that maybe we don't want to vote."
While the audio isn't entirely clear, Hyde-Smith appears to say: "Maybe we want to make it just a little more difficult. So I think that's a great idea."
The state senator has provoked outrage with her comments, with many accusing Hyde-Smith of encouraging voter suppression. This comes fresh off the heels of a midterms election cycle rife with accusations of voter suppression, particularly in Georgia, where a winner in the race between Democrat Stacey Abrams and Republican Brian Kemp has yet to be declared.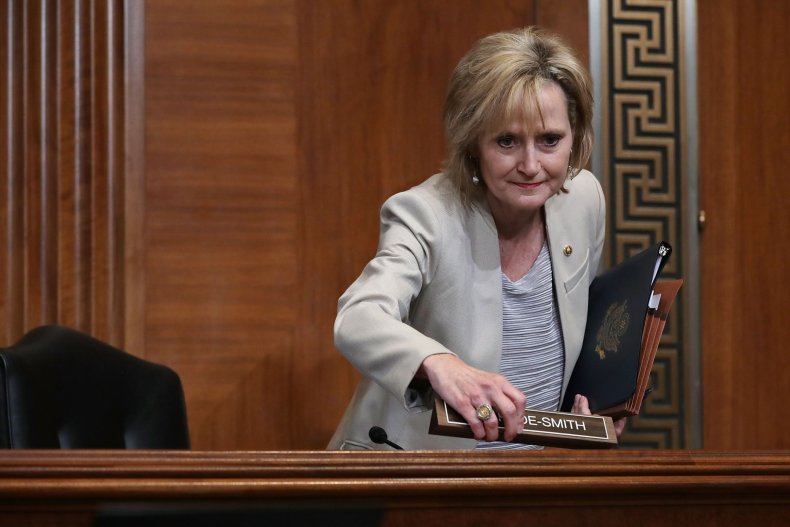 Bernice King, the youngest child of Martin Luther King Jr. and Coretta Scott King, hit out at Hyde-Smith's comments on Twitter, writing: "If our votes didn't matter, there wouldn't be persistent attempts to suppress them."
"We must restore the Voting Rights Act and strengthen our protection of voting as a cornerstone of democracy," she said.
Hyde-Smith's campaign team has shrugged off outrage over the state senator's comments, asserting that she was just exercising her sense of "humor."
"It's ok to still have a sense of humor in America, isn't it?" a post from Hyde-Smith's campaign Twitter page said. "These students enjoyed a laugh with Cindy, despite out of state social media posts trying to mislead Mississippians."
Hyde-Smith's campaign team further told The Washington Post that the senator's comments were taken out of context, asserting that she had been referring to the issue of polling stations on college campuses when she made the comments.
"That's what she said was a great idea," spokeswoman Melissa Scallan said. "Someone pointed out that college campuses were liberal and that's when she made the joke about not wanting everyone to vote. That was a joke. The polling places on college campuses is what she said was a great idea."
"The senator absolutely is not a racist and does not support voter suppression," she said.
Scallan asserted that the video had been "selectively edited" and blamed "liberal media" for exploiting the situation to avoid talking about Hyde-Smith's Democratic challenger, Mike Epsy.
Local blogger Lamar White Jr., who posted the video to Twitter, has asserted that the video was not edited.
Hyde-Smith's comments on liberal voters are not the only ones she's come under fire for in recent days.
The politician has also faced backlash after White posted another video of Hyde-Smith joking that she would be in "the front row" if one of her supporters invited her to a "public hanging."
She is also facing scrutiny after it emerged on Wednesday that the senator had accepted a $2,700 donation, which is the maximum individual contribution allowed, from Peter Zieve, who is being sued by Washington state for discriminating against ethnic minority work applicants at his aerospace company, Electroimpact.
Hyde-Smith is set to face Epsy in a runoff election on November 27, after neither candidate managed to win more than 50 percent of the vote in a four-way midterm vote.