GOP Senator Compares Cutting Federal Spending to 'Going to Heaven,' Saying 'Nobody's Quite Ready to Take the Trip'
Republican Senator John Kennedy lamented on Wednesday that members of his party along with Democrats are not more concerned about reducing government spending, comparing the issue to "going to heaven."
"Here's what I've learned in three years about the budget," Kennedy, who represents Louisiana, said during an interview with Fox News America's Newsroom. "Everybody around this place – Democrat and Republican – says 'we need to spend less.' But it's like going to heaven," the congressman continued. "Everybody wants to go to heaven, nobody's quite ready to take the trip."
Kennedy said that when it comes to actually reducing spending, lawmakers from both parties "don't want to hear about it." He pointed to an example from last year, when he proposed in the Senate Appropriations Committee to delay pay raises for federal employees. That amendment was shot down by Republicans and Democrats.
"Only one Republican voted with me. The rest of them opposed me," he said.
The GOP controlled Senate is expected to vote on budget legislation backed by President Donald Trump and the Democrat-controlled House of Representatives that would disregard the country's self-imposed debt for two years and add $2 trillion-plus in government credit. As the national deficit hovers just above $22 trillion, fiscal conservatives have voiced qualms about supporting the bill, which would increase military spending and ensure popular social programs continue to receive adequate funding.
"This budget process, if we can even call it a process, put taxpayers at the mercy of a House Speaker who has no interest in prudent budgeting," freshman GOP Senator Josh Hawley of Missouri said, criticizing the bill, the Associated Press reported. "Our system is not supposed to work this way. When the entire federal budget depends on four or five people striking a deal among themselves, something is not right."
Despite concerns from some Republican lawmakers, Senate Majority Leader Mitch McConnell, who represents Kentucky, has voiced his confidence that the measure will pass. Trump has urged the senators from his party to support the bill, arguing that it is a great compromise that provides additional support to the military and veterans.
Trump campaigned in 2016 on erasing the national deficit, saying he would cut unnecessary government waste. In reality, the deficit and national debt have ballooned under his administration. The president's tax cuts, which greatly benefitted the wealthiest Americans and corporations, alone are projected to add nearly $2 trillion to the deficit over the next decade.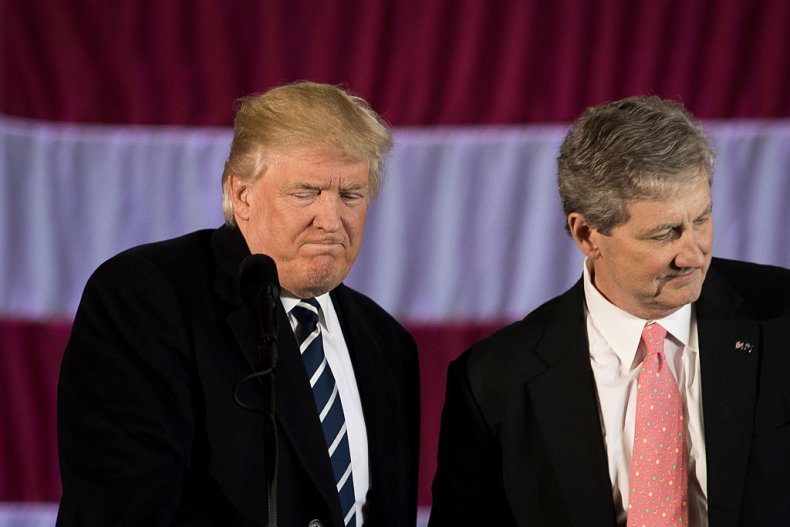 Fox News Sunday anchor Chris Wallace confronted the president's acting White House Chief of Staff Mick Mulvaney over the deficit during an interview this past weekend. He pointed out that during Obama's last four years in office, the deficit had begun to decline by an average of 11 percent per year. When Trump took over in 2017, the deficit once again began to increase by an average of 15 percent per year.
"Under President Trump, our national debt has increased by more than $2 trillion," Wallace said. He explained that estimates project that the amount will "top $4 trillion," if the new bipartisan budget supported by the president is approved.
Mulvaney, like Kennedy, blamed Democrats and Republicans for the issue. He argued that the president's original budget proposal, which significantly cut funding for Medicare and Medicaid, would have successfully reduced the deficit. But that budget, if it had been accepted without significant modifications, would have still been the largest federal budget in U.S. history, calling for $4.75 trillion in spending.