GOP Senator Confirms $600 Stimulus Checks in COVID Relief Bill Headed for Vote
The next coronavirus relief bill will include $600 stimulus payments to eligible U.S. adults, Wyoming Republican Senator John Barrasso said Sunday.
The Senate Republican Conference chair provided updates about lawmakers' stimulus negotiations during an interview with Fox News anchor Chris Wallace, as partisan discussions near an expected conclusion after months in limbo.
"This gets done today. No more delays. We're not leaving until we have relief for the American people," Barrasso told Wallace of the legislation, which aims to provide economic support to state and local governments, small businesses and individuals. It will allocate roughly $900 billion in federal funds to various initiatives that endeavor to do this more directly, including unemployment benefits plans and the Paycheck Protection Program.
"People are hurting, people need help, and there are two things we need to do to write this final chapter on coronavirus," Barrasso continued. "And the one is to get people vaccinated...but we need to provide help for the American people who have been struggling until we get enough people vaccinated that we can fully get the economy back on track."
Democratic House Majority Leader Steny Hoyer additionally confirmed lawmakers' intentions to vote on a COVID-19 relief proposal before the end of Sunday evening. In a statement detailing the afternoon's meeting schedule for members of the House, his office noted that "votes are expected in the House today related to government funding and further Coronavirus relief legislation."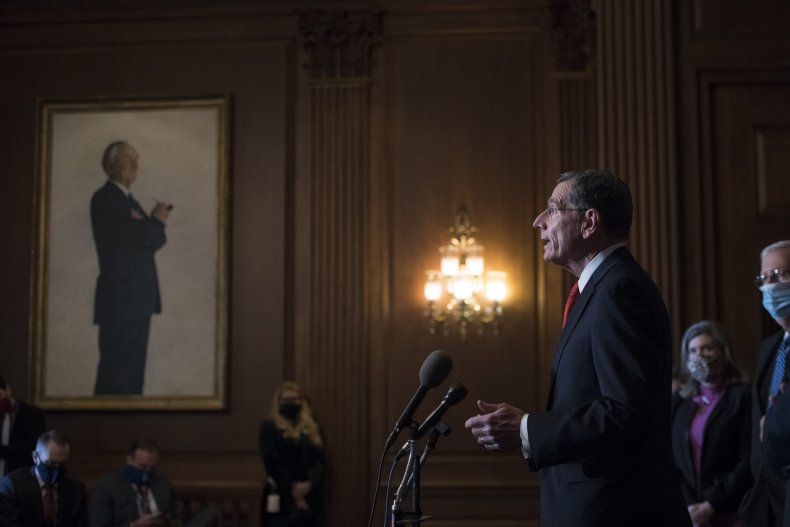 Congressional leaders have struggled to reach agreements on several of the bill's key terms, causing a standstill that persisted through the latter half of the year. Public inquiries about the legislation continued to circulate on whether it would include another round of direct payments.
The Coronavirus Aid, Relief and Economic Security (CARES) Act, a bipartisan bill passed shortly after the COVID-19 outbreak began in March, offered an initial round of stimulus checks to U.S. adults who qualified. Those payments totaled as much as $1,200 per individual, with additional sums allocated to caretakers with dependents of a certain age.
Many have argued that $600 stimulus payments are not substantial enough to provide Americans with necessary support, especially given the ongoing unemployment rate and severe financial consequences to local businesses. Last week, more than 750,000 Twitter users responded a survey posted by Democratic New York Congresswoman Alexandria Ocasio-Cortez expressing frustration over the insufficient funding amount.
Newsweek reached out to Barrasso's office for further comment but did not receive a reply in time for publication.