GOP Senator Cornyn Admits to Keeping Confrontations With Trump Private, Notes Public Ones 'Don't End Too Well'
Senator John Cornyn, a Texas Republican, admitted in an interview published Sunday that he's disagreed with President Donald Trump on a range of issues but did not want to risk a public confrontation with the commander-in-chief.
Cornyn, who is up for reelection on November 3, made the remarks during a meeting with the editorial board of Fort Worth Star-Telegram. He described his initial relationship with Trump as "maybe like a lot of women who get married and think they're going to change their spouse, and that doesn't usually work out very well."
The GOP senator went on to say he'd disagree privately with Trump's positions on budget deficits, debt, trade agreements, tariffs and border security.
"I think what we found is that we're not going to change President Trump. He is who he is. You either love him or hate him, and there's not much in between," the lawmaker from Texas said. "What I tried to do is not get into public confrontations and fights with him because, as I've observed, those usually don't end too well."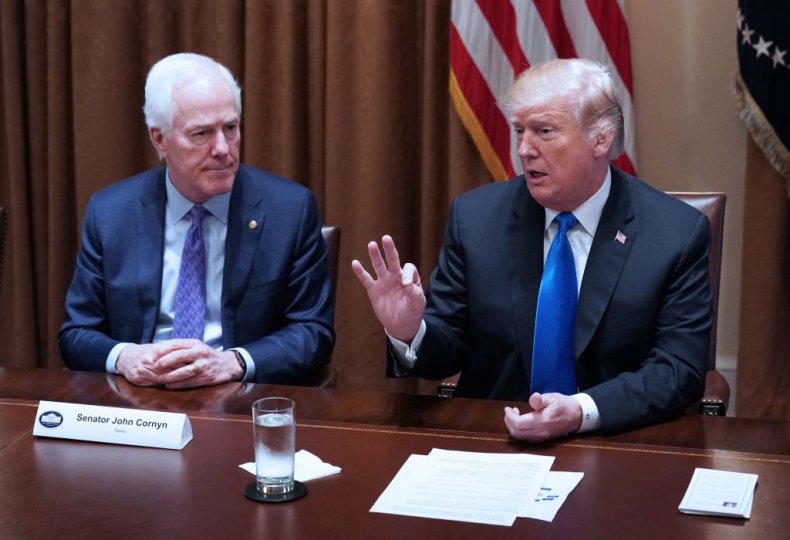 Although Cornyn said he agrees with Trump's hardline stance against China, he voiced disagreement with some of the president's tactics. "This idea that China is paying the price and we're not paying the price here at home is just not true," he said, referencing the ongoing trade dispute between the U.S. and the East Asian superpower.
Newsweek reached out to the White House for comment, but it did not immediately respond.
The Republican senator appears likely to win his re-election bid. Cornyn faces M.J. Hegar, a teacher and veteran of the Air Force. The Real Clear Politics average of Texas polls shows the GOP incumbent with a lead of about 7.6 percentage points over his Democratic challenger. Cornyn is backed by about 48 percent of Texas voters while Hegar is supported by just 40 percent.
Cornyn's remarks come days after his GOP colleague Senator Ben Sasse of Nebraska raised concerns about the president during a town hall with constituents last week. The senator voiced criticism for "the way he [Trump] treats women and spends like a drunken sailor. The ways I criticized President [Barack] Obama for that kind of spending, I criticize President Trump for, as well. He mocks evangelicals behind closed doors. His family has treated the presidency like a business opportunity. He's flirted with white supremacists."
Trump responded angrily on Twitter after Sasse's remarks were widely reported. The president described Sasse as "the least effective" of the Republicans in the Senate and as "a person who truly doesn't have what it takes to be great."
Sasse is also up for re-election, but is in a race considered safe for Republicans.