GOP Senator Criticizes Facebook for Removing Some Event Pages Promoting Protests Against Stay-at-Home Orders
Senator Josh Hawley (R-Mo.) suggested that Facebook blocking some posts related to protests against COVID-19 stay-at-home orders was an attempt to make "free speech illegal" on Monday.
Facebook took down posts for protest events in California, New York and Nebraska. The company said that the posts were removed because the demonstrations in those states would violate orders intended to limit the spread of the virus. Several other events have not been taken down.
"Because free speech is now illegal America?" Hawley tweeted in response to a tweet that claimed the posts had been taken down "on the instruction" of state governments.
Facebook has insisted that removing the posts was their own decision, based on their policy of not allowing content that encourages people to violate laws by defying state health restrictions, rather than the instructions of state officials.
"We reached out to state officials to understand the scope of their orders, not about removing specific protests on Facebook," a company spokesperson told Politico. "We remove the posts when gatherings do not follow the health parameters established by the government and are therefore unlawful."
Although some have argued that the power of social media companies to restrict speech should be limited because it gives the companies too much power, free speech guaranteed by the First Amendment applies to restrictive actions by the government, not private companies like Facebook.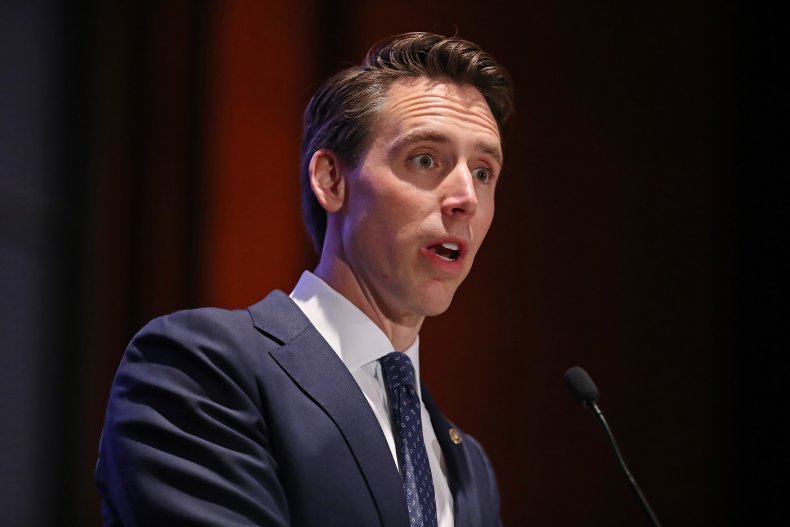 President Donald Trump's son, Donald Trump Jr., also lashed out at the move on Facebook, claiming that the company enforcing the policy meant it was "colluding" with state governments.
"Why is @Facebook colluding with state governments to quash peoples free speech?" Trump Jr. tweeted. "Regardless of what you think about the lockdowns or the protests against them, this is a chilling & disturbing government directed shutdown of peoples 1st Amendment rights. Very dangerous!"
Protests against stay-at-home orders started taking place across the country last week. Largely conservative groups of protesters, some holding Trump campaign signs, gathered in person at multiple state capitals while openly ignoring social distancing guidelines.
Although Trump has maintained that plans will rely on the advice of health experts, he has indicated that he hopes to reopen the country quickly. He also appeared to encourage the protests in a series of tweets that urged people to "liberate" Michigan, Minnesota and Virginia. All three states have Democratic governors and are seen as battlegrounds in November's election.
Public health experts have cautioned against immediately reopening the economy, with most of the country believed to have not yet reached a peak in cases. An early easing of restrictions would likely lead to a large spike in cases, they warn. As of Monday, there were over 792,000 cases in the U.S., including more than 42,000 deaths and around 72,000 recoveries.
Regardless of the advice of health experts, Hawley has advocated for the economy to reopen "as soon as we possibly can." He is one of dozens of lawmakers from both parties who were recently appointed to the administration's task force on reopening the economy.
Newsweek reached out to Hawley for comment but did not receive a response in time for publication.